Hair fall has become such a widespread problem in recent years due to stress, anxiety and other medical issues. People end up spending hundreds of dollars on hair spas and other protein treatments to prevent hair fall, with no beneficial results.

If you're struggling with hair fall, the ancient science of Ayurveda has the answer for you. Head massage with the best anti-hair fall oils is proven to reduce hair loss and hair breakage.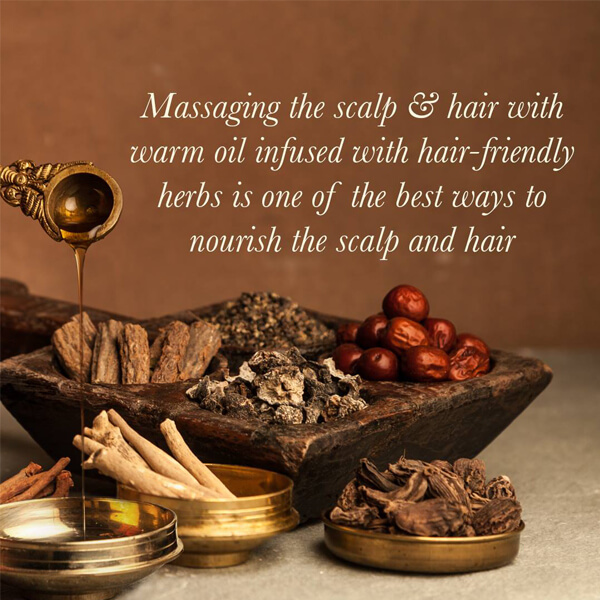 Read - Scalp Massage For Hair Growth - Does It Really Work?
8 Best Hair Fall Control Oils To Deal With Hair Loss & Breakage
To improve the overall quality, texture and thickness of your hair, it is highly recommended that you give yourself an oil massage once or twice a week with the best anti-hair fall oils listed in this article. These oils have many advantages that you will experience when you stay patient and consistent with your hair care routine. 
1. Bringadi Oil - For Hair Fall & Dandruff
Bringadi hair oil is the best Ayurvedic hair treatment that helps prevent hair loss, dandruff, and other hair problems. The oil works as a natural conditioner that promotes hair growth and nourishes your hair deeply from the roots while cooling the scalp. Use this treatment thrice a week, have patience, and you will see the effective results after the continued use of the bringadi oil.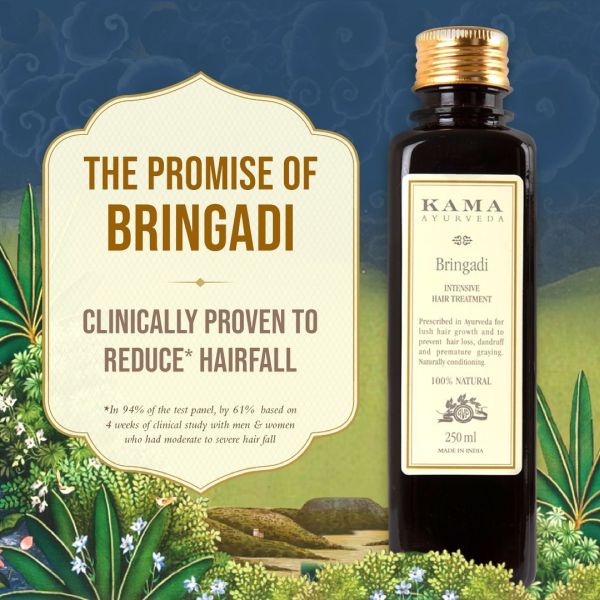 Why Use Bringadi Hair Oil For Hair Fall?
Bringadi Intensive Hair Treatment is 100% natural all-in-one ayurvedic oil used to treat hair fall and premature graying of hair. It's clinically proven to reduce hair fall by 61%. Recommended for both men and women, this oil conditions hair naturally and brings the damaged hair back to its healthy form. 

It has hair nourishing properties of natural ingredients Bhringraj, Amla, Indigo, Hibiscus and Balloon Vines for treating your hair problems like hair fall. The Indigo extracts also help smooth dry and tangled hair and make it thick and healthy. 

Other Benefits of Bringadi Hair Oil
Provides a cooling and soothing sensation
Prevents various scalp infections
Prevents premature graying of hair and hair loss
Makes your hair look more healthy and lustrous
Acts as a natural conditioner

How To Use Bringadi Hair Oil for Hair Fall?
You can warm the oil and apply it on your hair roots and scalp, then gently massage the scalp. Keep the oil on your scalp for 30 minutes, and then wash your hair using lukewarm water. 
2. Coconut Oil - For Hair Fall & Dryness
Coconut oil works as a fantastic remedy for hair fall and other hair related problems. It is so hydrating and refreshing that it brings deep conditioning to your hair while also moisturizing your hair to make it less frizzy.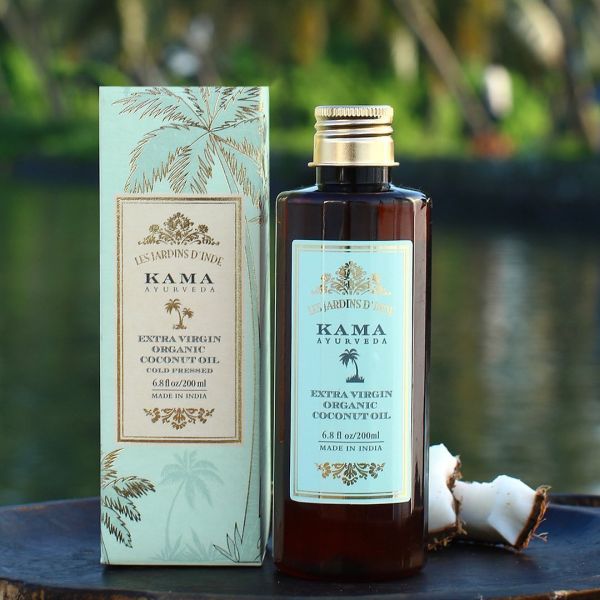 Read - Why Is Virgin Coconut Oil So Good For Your Hair?
Why Use Coconut Oil For Hair Fall?
If you have thin or fine hair, the coconut oil helps treat hair fall by penetrating deep into the hair shaft and preventing the loss of protein, preventing breakage. 
To stimulate hair follicle growth, apply it directly to your scalp. Coconut oil primarily has the properties of lauric acid, a medium-chain fatty acid. These properties of this oil make it easier to absorb into the hair shaft because of its long and straight structure. 
Other Benefits of Coconut Oil
Provides deep conditioning to your hair
Adds bounce to your hair and makes it look shiny
Absorbs quickly into your hair
Provides a cooling sensation to your scalp
Nourishes your hair from the roots
How To Use Coconut Oil For Hair Fall?
To apply the Coconut oil, all you must do is detangle your hair using a thick comb and distribute your hair into sections. Gently apply the oil directly to your scalp and massage a bit. Keep on changing the area. 
For treating your hair loss and boosting hair growth, you need to take 3-4 drops of oil on your fingertips and massage it firstly on your scalp before applying it to the midsection of your hair. 
Leave the oil overnight or maybe for around 20- 30 minutes for deep conditioning, and then shampoo your hair like you usually do. If you are keeping it overnight, do not forget to rinse properly, and once your hair gets dry, you will be able to see silky hair and shiny hair. Keep doing this twice or thrice a week, and you'll notice the promised results. 
3. Almond Oil - For Hair Fall & Thinning
Almond oil is a perfect hair oil to tackle hair loss problems because it is rich in Vitamin E. It's a potent antioxidant shown to help restore damaged hair. Furthermore, Almond oil includes Biotin, which your hair requires for healthy growth.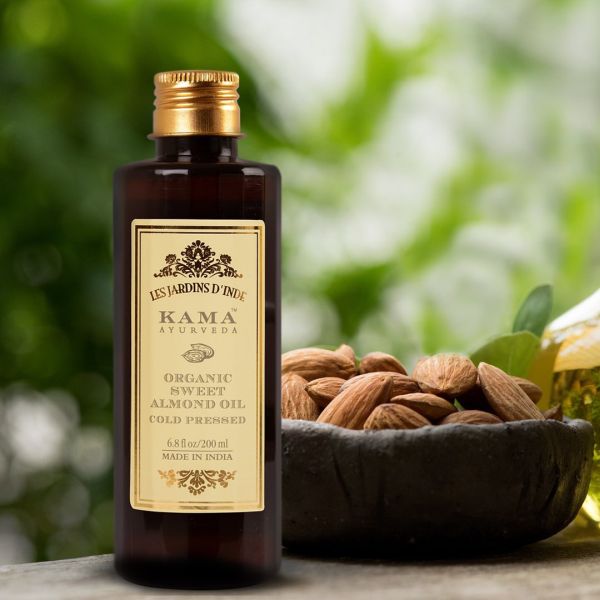 Read - 10 Amazing Benefits Of Almond Oil For Hair & Skin
Why Use Almond Oil For Hair Fall? 
When it comes to hair fall issues, Almond oil has a plethora of advantages. That's because it's rich in fatty acids, including Omega-6, Omega-9, Omega-3, which have anti-inflammatory and nourishing properties. The oil is also rich in Magnesium and Vitamin E, which are well known antioxidants. Hair loss can be brilliantly reduced by using the properties of these nutrients present in Almond oil. 
Other Benefits of using Almond Oil
It has a non-sticky and fast-absorbing texture 
Almond oil provides conditioning to your hair
It helps in repairing damaged hair
It prevents hair from damaging again 
How to use Almond Oil for Hair Fall?
Apply the Almond oil directly to your scalp and massage your hair gently from the roots. You can also warm the hair oil before applying it.
Leave the oil for 20 minutes, and then wash your hair using a mild sulfate-free shampoo and lukewarm water. 
Treat your hair with this twice or thrice a week and be consistent. You'll notice the desired results after a few weeks. 
4. Sesame Oil - For Hair Loss & Baldness
In ancient Hindu mythologies, Sesame seeds were referred to as the symbol of immortality. Each sesame seed contains a wealth of nutrients that make the oil anti-inflammatory, antiviral and antibacterial. Sesame oil is very beneficial for treating hair loss and other issues.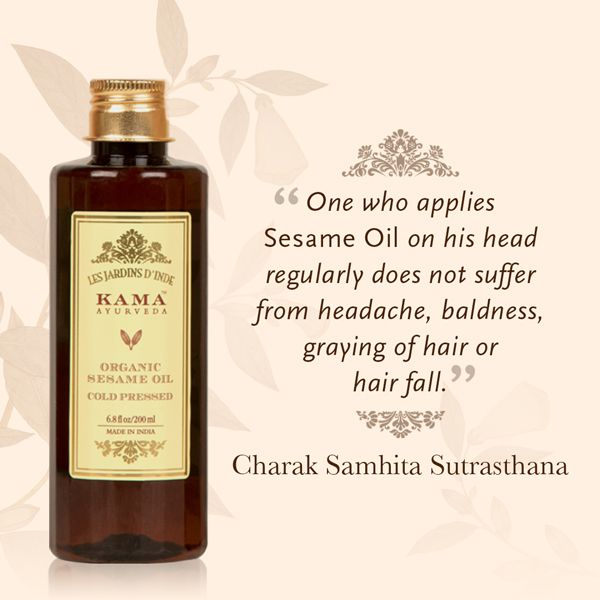 Read - How To Use Sesame Oil For Hair?
Why Use Sesame Oil For Hair Fall?
Applying Sesame Oil to your scalp can increase hair growth and prevent baldness. Sesame oil is an effective treatment for hair loss as per the recent studies. Even the prescribed anti-baldness medications like Minoxidil can't match its results. This oil is a remarkable remedy that can stimulate hair growth by increasing blood flow to the scalp. 
Other Benefits of Sesame Oil
Protects your hair from harmful UV rays
Helps in treating head lice
Nourishes heat damaged and dry hair
Relieves anxiety and thus, prevents hair fall problems due to stress
Deep conditions your hair and prevents dandruff 
How To Use Sesame Oil For Hair Fall?
Apply the Sesame oil directly to your scalp and gently massage hair from root to tip. You can also warm the Sesame Oil before applying for better results. Set it for 20 minutes, and then cleanse your hair using a mild hair cleanser and warm water. 
You can also use Sesame oil with Almond oil for deep conditioning. Apply the mixture for 30-40 minutes on your scalp and finally rinse it off using a mild shampoo or a cleanser. 
5. Neem Oil - For Hair Fall & Excess Sebum
Neem oil is considered one of the most effective oils for promoting hair growth. It helps stimulate hair follicle growth and function by supporting healthy cell division. Always use Pure neem oil because of the various benefits that it provides, along with its efficacy.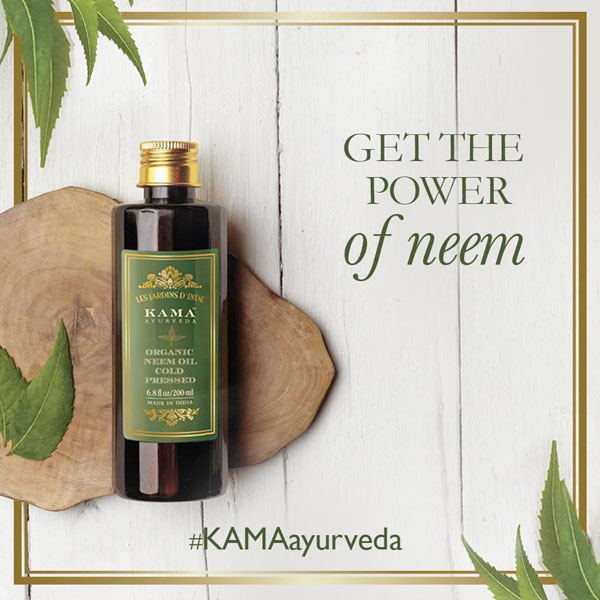 Read - 16 Top Benefits & Uses Of Neem Oil For Hair & Skin
Why Use Neem Oil For Hair Fall?
People experiencing hair thinning for hair falling may benefit significantly from using Neem oil. Using Neem Oil can strengthen your hair follicles while simultaneously promoting thick and healthy hair growth. Even excessive sebum production inhibits hair growth, resulting in hair thinning and can be prevented with Neem oil. 
Overall Benefits of Neem Oil
It keeps your hair tangle-free
It fights with every scalp issue that leads to loss of hair
It can also treat head lice
The oil is best for providing nourishment to your hair
How to use Neem oil for hair fall? 
Apply the oil in combination with almond oil for Sesame Oil in equal proportions. 
Use your fingertips to apply the oil to your scalp and gently massage it. 
Leave the oil for 30 minutes and then cleanse it gently using the mild shampoo, which is sulfate-free. 
6. Lavender Essential Oil - Relaxing Anti-Hair Fall Oil
The Lavender Essential Oil has recently been hailed for its ability to promote hair growth. A trusted source conducted a recent study in 2016, and they witnessed that hair grows much thicker and faster than usual when massaged with Lavender oil.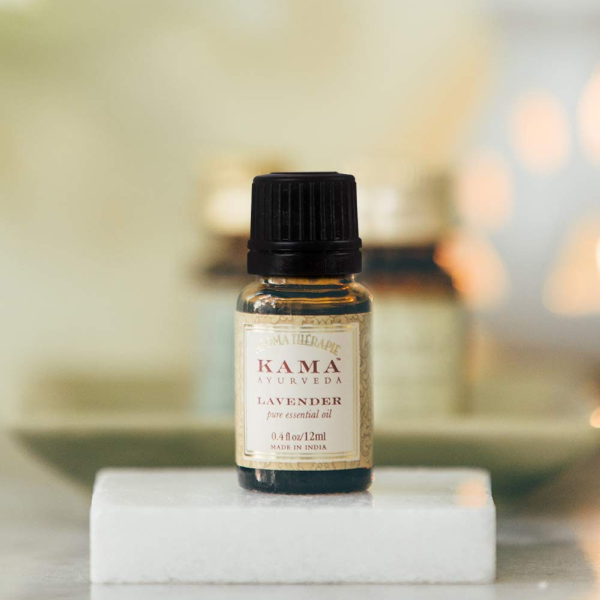 Why Use Lavender Essential Oil For Hair Fall?
In addition to nourishing the scalp, Lavender oil also helps remove toxins from your hair follicles, which promotes the growth of your hair. It also has anti-fungal, anti-dandruff properties, which are very well known for treating various hair problems. It has multiple antibacterial properties that can help treat other bacterial issues for you. 
Overall benefits of Lavender Oil
Kills the head lice and prevents them from coming back
Treats scalp inflammation and dryness
Has a divine fragrance that also can provide relaxation and pleasure
It can disallow bacteria and fungi from growing on your scalp
How to use Lavender Essential Oil for hair fall? 
You can use diluted essential Lavender oil with coconut oil. Mix the oil in equal proportions. 
After shampooing your hair, apply the mixture and keep it for 5 to 10 minutes and then rinse out, only if you desire. Do not leave it on for more than 30 minutes.
You can also use it for massaging your scalp, but once a week works best. 
7. Peppermint Essential Oil - To Promote Hair Growth
Even though Peppermint oil is best known for its skincare benefits, it is also beneficial to your hair and scalp. The Peppermint essential oil is helpful in the treatment of dryness, itching and other scalp problems, including hair fall.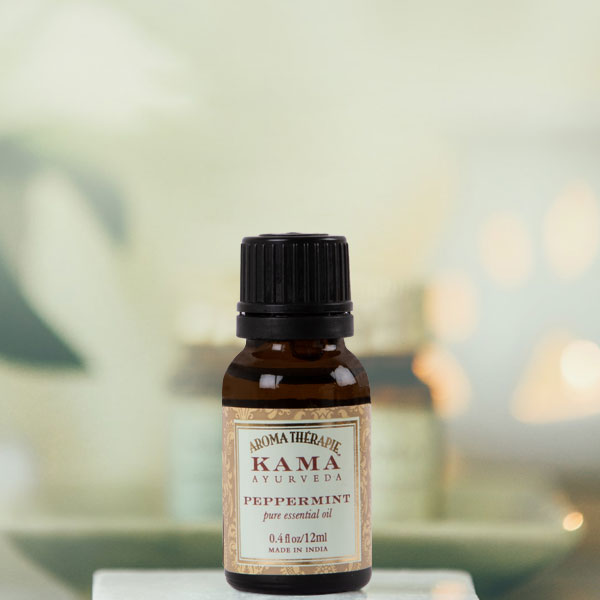 Why Use Peppermint Essential Oil For Hair Loss?
Some people have reported success with the oil as a treatment for hair loss. This could be because peppermint essential oil contains menthol, a vasodilator, and you must know that vasodilators increase blood flow. 
It is believed that hair loss occurs in many cases because the hair follicles are starved of blood flow. Increasing circulation by using a vacillator such as a peppermint may be able to promote hair growth and prevent your hair from falling. 
Overall Benefits of Peppermint Essential Oil
Has anti-inflammatory properties. 
Can reduce unnecessary itching on your scalp
Acts against bacteria and yeast 
Can help in thickening your hair 
How To Apply Peppermint Essential Oil? 
For a direct scalp massage, add a few drops of peppermint oil to about one tablespoon of regular oil. Massage oil onto your scalp using your fingertips. 
You will feel a minty or tingling sensation. Leave the oil for about 15 to 20 minutes on your scalp and wash your hair using a sulfate-free shampoo. 
You can also put 4-5 drops of Essential peppermint oil directly into your shampoo or conditioner bottles for better results.
Read - 16 Incredible Uses of Peppermint Oil For Health & Wellness

8. Ylang Ylang Essential Oil - For Hair Loss 
Alopecia areata and stress-induced hair loss can be effectively treated with Ylang Ylang Essential oil, an effective natural treatment. When appropriately massaged into your hair follicles, it helps you build the growth of new hair. It is a very safe and natural way of treating the thinning of hair. It works by stimulating the sebaceous gland and enhancing sebum production, which also helps keep the hair healthy and conditioned over time.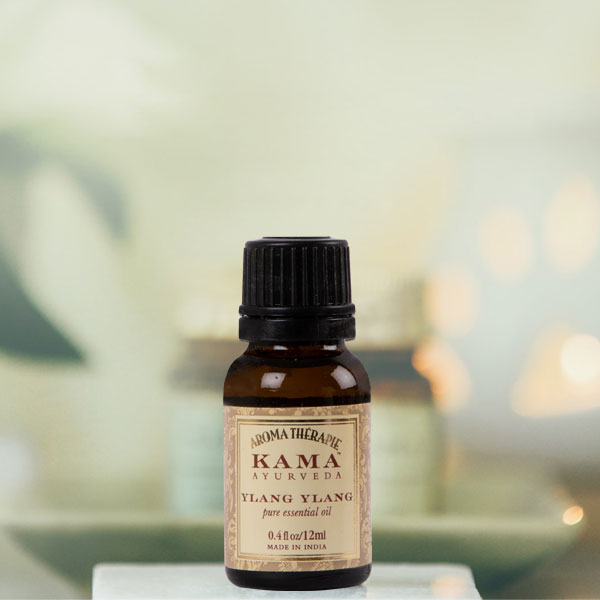 Why Use Ylang Ylang Essential Oil For Hair Fall?
The regular use of this oil is also helpful in preventing split ends and other hair problems. According to a popular belief, stress is a significant contributor to hair loss. The majority of us are leading stressful lives. The Ylang Ylang Essential oil can relieve stress and also relax the person. The oil has a euphoric effect on the nervous system, which helps in reducing anxiety, fear and other negative emotions, thereby reducing hair loss caused by stress.
Overall Benefits of Ylang Ylang Oil
It has the antimicrobial properties which can helps in preventing microbial infections
The oil has anti-inflammatory effects, reducing the risk of chronic diseases.
It regains the health of your hair and makes it more hydrating and smooth. 
How To Use Ylang Ylang Oil for Hair fall?
Only the pure carrier oils such as Coconut, Almond and Sesame oil should be used for diluting essential oils. Mix a few drops of the Ylang Ylang Essential oil to a teaspoon of the carrier oil you have chosen and mix them thoroughly. 
Gently put the mixture to your hair roots and scalp and massage a little using your fingertips. 
Allow it to sit for 20 minutes, and then use a mild cleanser to rinse off the mixture from your scalp and avoid irritation. 
This was all about the best anti-hair fall oils essential for treating hair problems like hair loss and hair breakage. All these oils help in promoting hair growth and make your hair look healthier than ever. Do not forget to untangle your hair knots and brush your hair properly before applying the oils to your hair. Evenly divide the hair strands and change the section after the massage.