Dandruff is one of the scalp and hair's most irritating and persistent problems, characterized by itching and flakiness of the scalp. It is a mild form of seborrheic dermatitis, an inflammatory skin disease that causes increased dryness, itching, and shedding of dead skin cells from the scalp. 
In most cases, dandruff doesn't seem to go away quickly on its own. As winter approaches, the problem gets worse. Instead of trying strong shampoos and harsh treatments to eliminate dandruff, consider switching to hair masks for dandruff. These hair masks can be used long-term without causing any damage to hair or scalp. Moreover, they have many additional benefits for hair.
Read - Best Home Remedies To Get Rid Of Dandruff Naturally
Before exploring the best hair masks for dandruff, let's first understand the problem of dandruff a little better.
What Are The Causes Of Dandruff?
Dealing with dandruff is a challenging task; you can figure out a better treatment when you're aware of what causes it in the first place. So, here are some of the possible causes.
1. Sensitivity to Hair's Natural Fungus
Most people believe that dry skin is the main reason behind dandruff, but that is usually not the only case. You tend to get dandruff when there is an overgrowth of pityrosporum orbiculare (a form of yeast) on your scalp. Besides, this naturally occurring yeast feeds on your skin oils, which is why people with oily scalps are also at a greater risk of getting dandruff.
2. Taking Excessive Stress
In most cases, dandruff results from being under severe stress. Further, chronic stress can aggravate any skin condition, and dandruff is no exception. It happens because stress is responsible for weakening your immune system; thus, your body finds it difficult to deal with dandruff flare-ups. Also, you should make use of relaxation techniques to relieve stress.
3. Insufficient Shampooing
Excessive shampooing is undoubtedly bad for the health of your hair, but the same is true when you do not shampoo your hair enough. Besides, not shampooing enough leads to a buildup of oils in your scalp, providing a perfect environment for fungus to grow. Therefore, washing your hair frequently reduces buildup of sebum and controls dandruff. 
Read - The Best Shampoos for Dandruff And Flaky Scalp in 2023
4. Imbalanced Diet
Not eating a balanced diet can also aggravate your skin conditions and affect your overall hair health. In addition, it is believed that certain food items can be a cause of flare-ups.
5. Over-Styling
You can worsen your dandruff symptoms by using certain oils or pomades. As yeast requires lipids to survive, thus, these products may provide them with precisely that to grow. Therefore, cutting back on styling gels, hair sprays, and mousses is essential to control your dandruff symptoms.
6. Specific Skin Conditions
People with psoriasis, eczema and other skin conditions have a higher risk of getting dandruff. In addition, people who have Parkinson's disease or any other neurological illnesses may also get seborrheic dermatitis and dandruff.
Can A Hair Mask Help Treat Dandruff?
Several shampoos and treatments in the market promise to reduce dandruff, although the chemicals are often harmful to your tresses. However, natural hair masks are an excellent option for dealing with the problem. Also, hair masks can help eliminate dandruff while conditioning and nourishing your hair. 
In addition, they address the root cause of your dandruff, scalp flaking, itchiness, and inflammation. Moreover, unlike most hair products, such as anti-dandruff shampoos, hair masks do not have harsh chemicals that may damage your hair in the long run.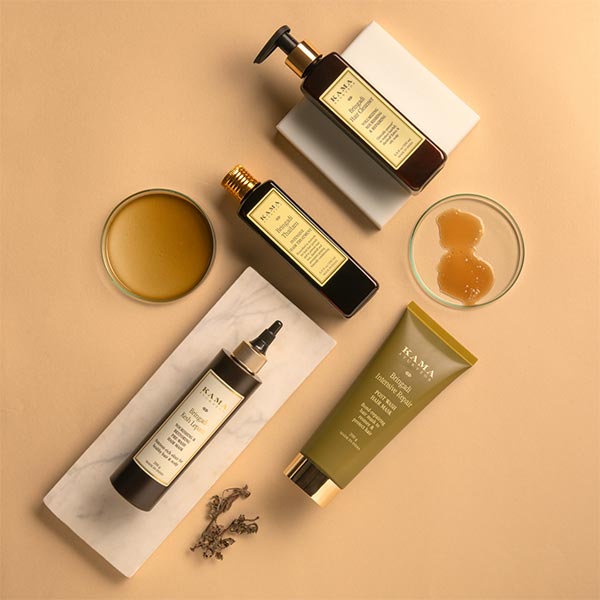 10 Effective DIY Hair Masks To Keep Dandruff At Bay
1. Yogurt, Honey, And Lemon Mask
Lemon juice is rich in citric acid, which is instrumental in balancing the pH levels of the scalp and hair. On the other hand, Yogurt repairs the damage and imparts shine and health to the hair. In addition, Honey comes with excellent moisturizing benefits, and regular application helps moisturize your dry scalp, thus driving dandruff away. This hair pack helps eliminate dandruff and all the itchiness and dryness that comes with it.
How to Use
Take about half a cup of Yogurt, one spoon of Lemon juice, and one spoonful of Honey. Mix all the ingredients well and then apply them all over your scalp. Leave this mask for half an hour and rinse it with a sulfate-free shampoo later.
2. Green Tea And Peppermint Essential Oil Hair Rinse
Green tea and Peppermint oil are both effective when it comes to ingredients for getting rid of dandruff. They both expel the dandruff-causing bacteria and cool and soothe the scalp while helping hair regain its lost luster. So a hair pack for dandruff using these two ingredients is indeed beneficial.
How to Use
Take one cup of Green Tea and one spoonful of White Vinegar. Now, add a few drops of peppermint essential oil and whisk them together. Then, wash your hair and pour this mix along the length of it. Leave it on for 5 minutes while massaging it through the scalp, and clean using a mild shampoo
3. Hibiscus And Fenugreek Hair Pack
Hibiscus, combined with fenugreek seeds, can help deal with dandruff issues efficiently. The Hibiscus flower and the leaves can help fight against dandruff issues, hair fall problems, baldness, etc. On the other hand, Fenugreek has the goodness of high protein and nicotinic acid content. All these nutrients fight against dandruff and hair fall effectively, and the antioxidants in the Fenugreek seeds help to cleanse your hair and remove all impurities. 
How to Use
First, take a handful of Fenugreek seeds and soak them overnight. Next, make a paste and add some olive oil to it. Now take some Hibiscus oil and mix everything well. Next, add two spoons of hibiscus powder to the Fenugreek paste and apply it on the scalp. Make sure you use it on the roots as well as on the affected areas. Allow it to dry, and then wash it off with lukewarm water.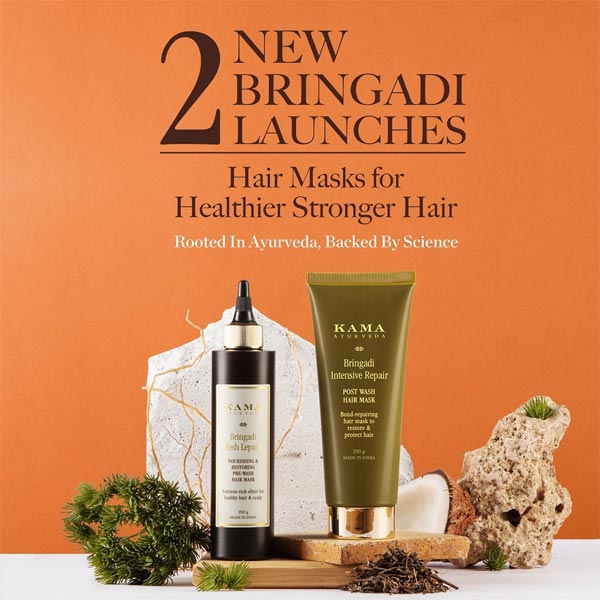 4. Banana, Honey, Lemon, And Olive Oil
This is an excellent hair mask for you if you have dry hair. Bananas can help condition your hair and control dandruff. Olive oil works effectively in making your hair soft and strengthening it. Further, the citric acid in lemon juice helps balance your hair's pH, and honey can help reduce dandruff.
How to Use
Start by mashing two ripe Bananas until you get a lump-free paste. Then, mix well with a tsp of Olive oil, Lemon juice, and Honey (each) to the mashed banana. Apply this to your hair and scalp and leave the mask on for 30 minutes before washing it with a mild sulfate-free shampoo.
5. Avocado Hair Mask For Dandruff
Avocado has numerous benefits for your hair, skin, and health. Did you know that Avocado is the "shine" king in hair care? Yes, it works miraculously and is a hair care specialist. It moisturizes your hair, treats frizzy hair, revitalizes your scalp, promotes hair growth, and treats dandruff.
How to Use
Mash a ripe Avocado with the help of a fork until it is completely free of lumps. Then, add two tsp of Olive oil and Honey to the mashed Avocado and mix until all the ingredients are well combined. Next, apply this mask from your hair roots to the tips. Please wait 45 minutes and then wash it off with a mild sulfate-free shampoo.
6. Coconut Oil For Dandruff
The Coconut oil's unique nutrient composition effectively counteracts or neutralizes the worst symptoms of dandruff and all the underlying causes of this irritating and unsightly condition. Further, Coconut oil inherits vitamins, minerals, and fatty acids that help improve your hair quality. Besides, Coconut oil stimulates rapid healing, as it is rich in minerals, antioxidants, and lauric, capric, and caprylic acids. It may also shield against future dandruff instances while keeping your scalp and shoulder clean. 
How to Use
Heat some Coconut oil until it's slightly warm, and start massaging it on your scalp with the help of your fingertips. Massage your scalp for about 10-15 minutes. Now, Wait for at least 30 minutes with the oil in your hair, and after 30 minutes, wash the oil out with a mild sulfate-free shampoo.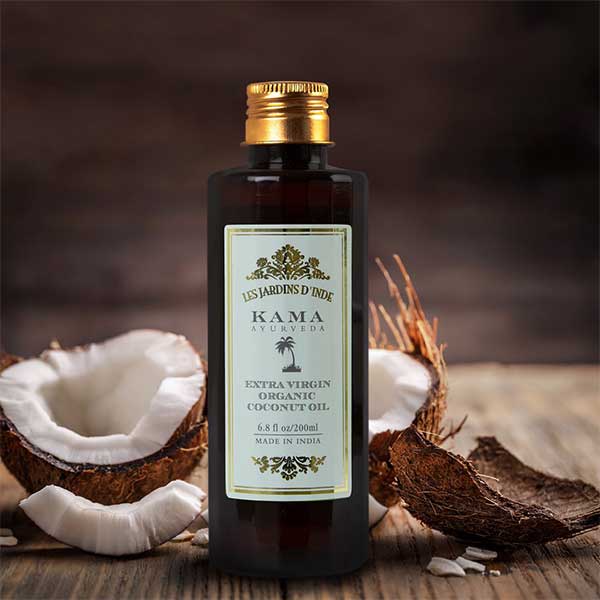 Read - Which Is The Best Hair Oil For Dandruff & Dry Scalp?
7. Egg And Yogurt Hair Mask For Dandruff
Yogurt contains Lactic acid bacteria that exhibit an antifungal effect on the skin. Moreover, Yogurt is rich in proteins and an excellent conditioning agent. In addition, Yogurt acts as a natural exfoliant, owing to its lactic acid content, thus helping cleanse the scalp of dirt and dead skin cells. On the other hand, an Egg is the best solution for your dandruff problem. The Egg is rich in the properties like protein, biotin, and sulfur that fight dandruff and make your hair strong and shiny.
How to Use
In a bowl, whisk the ingredients until you get a consistent mixture, and apply this hair pack to your hair, starting from the roots and working your way down to the tips. Once your scalp and hair are entirely covered in the mask, wait for 20 minutes. Then, wash the hair mask off with a mild sulfate-free shampoo. Ensure that you use cool water to rinse your hair, as hot/warm water can 'cook' the egg.
8. Fenugreek Hair Mask For Dandruff
Fenugreek works wonders for hair dandruff as it has the goodness of high protein and nicotinic acid content. Besides, these nutrients fight against dandruff and hair fall effectively. Moreover, the antioxidants in the fenugreek seeds help cleanse the hair and remove all impurities. Hence, fenugreek is highly suggested, especially during monsoons and winters, as these are the seasons when dandruff is highly prevalent for most of us.
How to Use
Soak four tsp of Fenugreek seeds in water overnight and blend the seeds with water the following day to get a smooth paste. Next, add one tablespoon of Lemon juice to this paste and apply this pack to your hair, starting from the roots and working down to your tips. Further, once your scalp and hair are entirely covered in the mask, wait 30 minutes and wash the hair mask off with a mild sulfate-free shampoo.
9. Apple Cider Vinegar Hair Mask For Dandruff
Apple Cider Vinegar is one of the great ingredients for your hair. It has several benefits, such as smoothening the hair cuticles, improving the luster of your tresses, moisturizing the hair, and reducing its frizziness. Additionally, it is a powerful anti-dandruff cure and is highly recommended.
How to Use
Combine water and Apple Cider Vinegar in a spray bottle and spritz the solution all over your hair and scalp. Wait for 15 minutes, and then wash your hair with a mild sulfate-free shampoo and condition.
10. Egg Yolk And Olive Oil Hair Mask For Dandruff
Egg yolk is filled with vitamin A, which is responsible for keeping your hair shiny, whereas olive oil helps in conditioning and keeping your scalp healthy; when mixed, these two ingredients help maintain a healthy scalp and fight against dandruff.
How to Use
Whisk egg yolk and olive oil in a bowl until you get a smooth mixture, and apply this pack to your hair, starting from the roots and working down to your hair tips. Further, once your scalp and hair are covered entirely in the mask, wait an hour. Now, wash the hair mask off with a mild sulfate-free shampoo. Finally, use cool/lukewarm water to rinse your hair.
Best Hair Mask For Dandruff Available In India
1. Kama Ayurveda Bringadi Intensive Repair Post Wash Hair Mask
With the help of several priceless ayurvedic herbs, Kama Ayurveda Bringadi Intensive Repair Post Wash Hair Mask restores damaged hair connections. It contains ingredients like Amla, coconut milk, and Bhringraj that guard against hair damage. 
Additionally, because Coconut milk has a lot of lauric acids, which can readily penetrate the hair and strengthen the cuticle, it aids in replenishing moisture. Bhringraj also carries a few antifungal and antibacterial traits that assist in minimizing scalp irritations. It also keeps your hair lustrous, silky, frizz-free, and manageable and has undergone dermatological testing.
Here are the top benefits of this hair mask -
Deep conditioning to repair broken hair bonds
Mitigates damage caused by heat, chemical treatments & environmental aggressors
Reduces breakage
Enhances volume
Keeps your mane shiny, smooth, frizz-free & manageable 
Calms & relaxes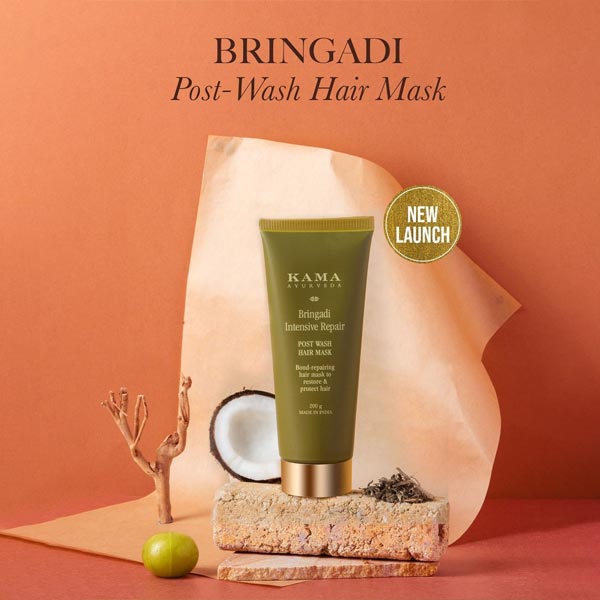 2. Kama Ayurveda Bringadi Kesh Lepam Nourishing restoring Pre Wash Hair Mask
The distinctive Ayurveda-based Bringadi Kesh Lepam Nourishing & Restoring Pre-wash Hair Mask strengthens and restores brittle & damaged hair. It is rich in botanical extracts and essential oils. It is a practical step to add to your weekly hair care routine because it prevents premature graying, dandruff, and hair loss. Shatapushpa is also recognized for calming imbalances, which contribute to a reduction in hair loss.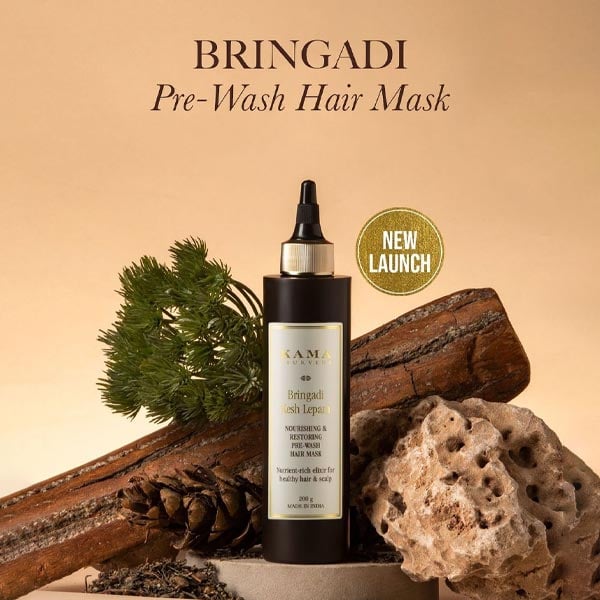 FAQS
How often should I do a hair mask?
One or two times per week, use a hair mask. However, it depends on the state of your hair. For instance, you might apply it more frequently if you have severe dandruff.
How much time should I spend on the hair mask?
The recommended time to let a hair mask on is 20 to 30 minutes. Too much protein absorption and hair breakage could result from leaving the hair mask on for an extended period.
When should you use a hair mask?
Applying a hair mask to moist hair makes it work best. It will be easier for the hair mask to be absorbed if you use it after shampooing.
Can yogurt cure dandruff?
Yes. A 2017 study found that using yogurt to treat mild to moderate dandruff symptoms has been effective.  As a result, applying yogurt hair masks may aid with dandruff problems.
Conclusion
This degeneration of the scalp can occur for various reasons, including infection, nutritional deficiencies, stress, and malfunction of the sebaceous gland. Dandruff, accompanied by irritation, and itching, can be a constant source of trouble for you. 
However, it can be treated using different homemade hair masks. The above-mentioned natural masks are chemical-free, easy to use, and cost-effective over-the-counter products. If you do not see improvement after using a hair mask regularly, using OTC products, and proper hair care, you should visit a doctor, as it may involve a primary medical condition.