Almost all of us suffer from pimples at one time or another. But if you are having continuous breakouts, chances are that you are suffering from acne (a condition affecting millions of people worldwide). With such a common skin condition also comes plenty of skincare advice. Sorting through this host of tips, product recommendations for and marketing jargon can be very difficult. 
But don't worry! We are here to help you. This article includes the list of best soaps for pimples, including an ultimate guide, a few tips, and FAQs to help take care of acne-prone skin.
Pimple fighting bar soaps are different from other ordinary soaps. They are gently handcrafted and are ideal for sensitive and oily skin. The mild formula and abundance of anti-inflammatory properties help relieve skin irritation, making them an effective cystic acne treatment. 
The soap's powerful and delicate qualities help absorb excess oil, maintain skin pH balance, protect skin from free radicals, and leave the skin fresh and toned. Below is an ultimate guide to buying the best soap for pimples.
Read - How To Get Rid Of Pimples Naturally – A Complete Guide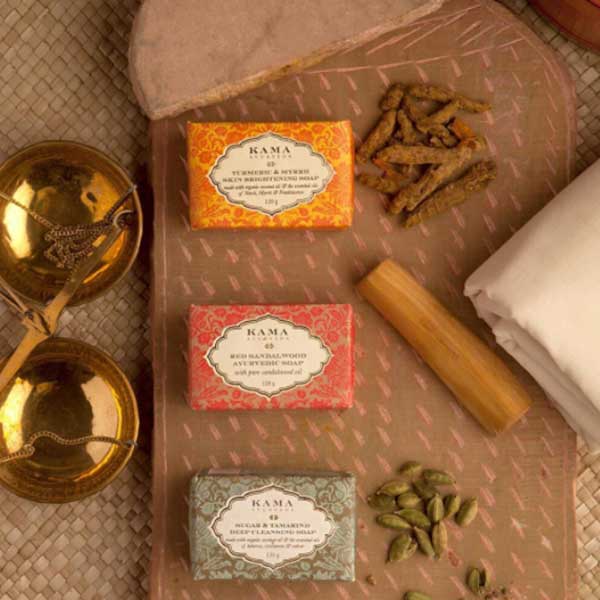 Which Is The Best Soap For Pimples?
Here are three different homemade soaps for pimples that will make it much easier for you to stay clear of acne as well as other skin problems. These soaps are all natural and can be used safely on the face.
Kama Ayurveda's Red Sandalwood Soap
Kama Ayurveda's Red Sandalwood Soap is a purifying and complexion-enhancing Ayurvedic face and body soap that helps treat blemishes, pimples, sunburn, and signs of aging. 
Red Sandalwood oil, one of the soap's main ingredients, is prescribed to cure various skin-related issues like acne, pimples, and premature aging in Ayurveda. Being rich in natural antioxidants, Red Sandalwood can correct hyperpigmentation and lighten marks, scars, and dark spots. 
The rich blend of the cleansing treatment also contains cold-pressed Extra Virgin Coconut Oil and natural Beeswax, which nourish the skin keeping it hydrated, soft, and protected. The Kama Ayurveda's Red Sandalwood Soap is best-suitable for oily skin types.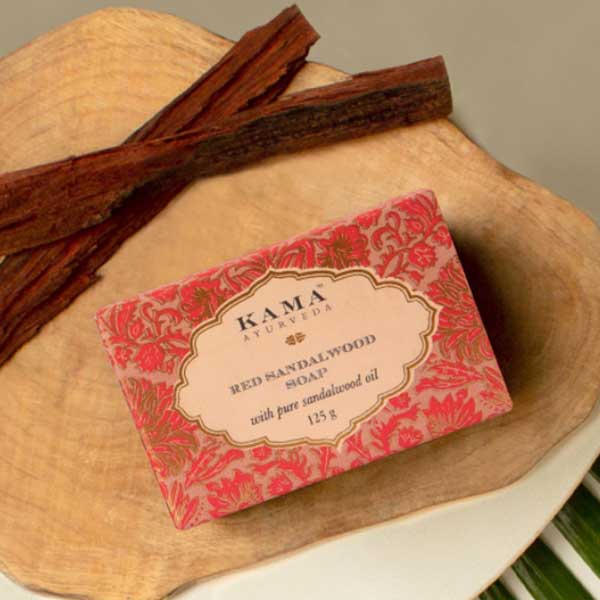 Benefits
Kama Ayurveda's Red Sandalwood Soap is 90% natural and is made from pure Red Sandalwood oil.
The antibacterial and antimicrobial properties of Sandalwood, Beeswax, Castor Oil, Fig, and Ginger Lily help treat acne, pimples, blemishes, and pigmentation.
The natural antioxidants of the soap treat hyperpigmentation, brighten the skin tone, and reduce dark spots and scars.
Coconut oil and Red Sandalwood oil can effectively nourish, protect and repair the sunburnt skin.
Kama Ayurveda's Natural Tulsi Soap
Kama Ayurveda's Natural Tulsi (Holy Basil) Soap is an ideal body cleansing fragrant soap that helps cleanse and revive dull skin leaving it smooth, soft, and radiant. It is a pure blend of Holy Basil Essential Oil, Castor Oil, Extra Virgin Coconut Oil, and Beeswax.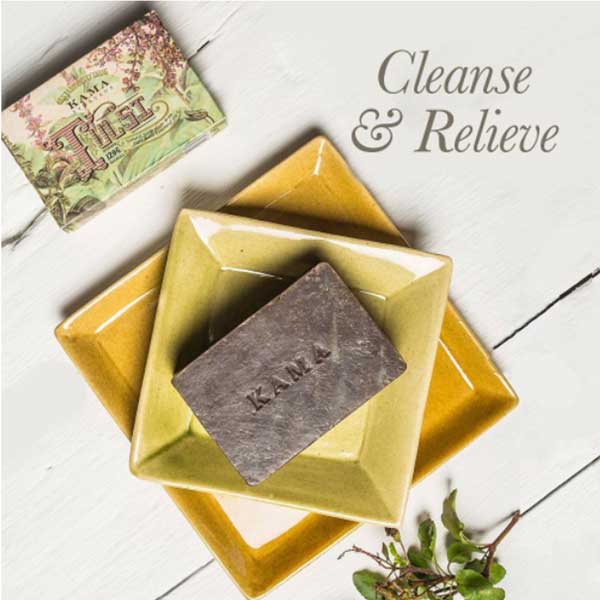 Tulsi helps impart luster to dull skin and leaves the skin protected, smoother, and toned with every use. It also works effectively in treating acne and other skin infections. Coconut oil, being rich in vitamins, fibers, and minerals, help relieve dryness and remove dead skin cells from the skin. Natural Beeswax, on the other hand, is rich in Vitamin A that hydrates and softens dry skin. Castor oil which can be absorbed quickly into the skin, works as an excellent moisturizer. 
Benefits
Kama Ayurveda's Natural Tulsi Soap is 91% natural and is suitable for all skin types.
Beeswax, Castor oil, and Coconut oil in the rich blend help acne, reduce pigmentation and protect the skin. (4)
With the abundance of antioxidants and moisturizing properties, Coconut oil and Castor oil in the soap help delay the signs of aging.
While the Beeswax softens and hydrates the skin, Basil and Castor oil deeply moisturize it.
Kama Ayurveda's Turmeric And Myrrh Skin Brightening Soap
Kama Ayurveda's Turmeric And Myrrh Skin Brightening Soap is a face and body soap with the essence of Turmeric to lighten complexion, reduce pigmentation, and protect the skin. Being a powerful antioxidant, anti-inflammatory, and antibacterial agent, Turmeric helps heal blemishes and lighten skin tone. 
The powerful ayurvedic ingredients, Banyan and Peepul (Sacred Fig), are ideal for purifying the skin. Natural Beeswax and cold-pressed extra virgin Coconut oil help nourish the skin to keep it soft, hydrated, and protected. The pure essential oils of Myrrh, Frankincense, and Neroli work effectively in reviving the skin and calming the senses.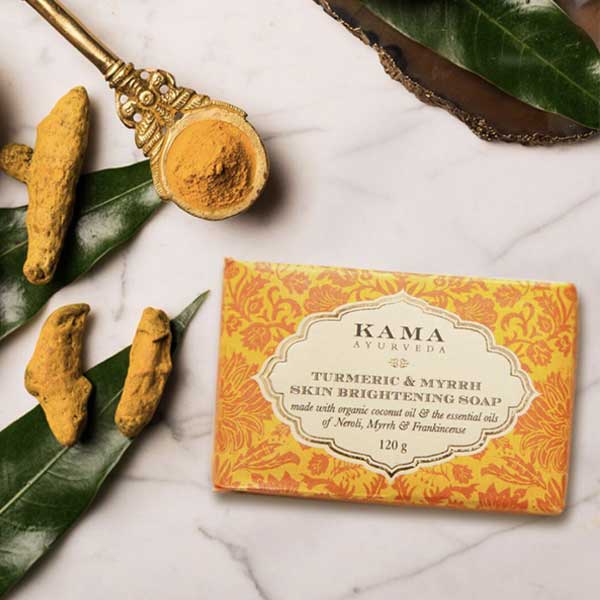 Benefits
Kama Ayurveda's Turmeric And Myrrh Brightening Soap is 90% natural.
The powerful antioxidants and antibacterial properties of Turmeric and Myrrh help treat acne, reduce pigmentation and heal blemishes.
Natural Beeswax and Coconut oil keep skin nourished and hydrated and replenish lost moisture.
What To Look For When Buying An Acne Soap For Face?
Below are the five factors one should consider before choosing the best soap for pimples.
Ingredients
Reach out for soaps with natural ingredients like Sandalwood, BeesWax, Ginger Lily, Castor Oil, Basil, Fig, Turmeric, and Myrrh that are rich in antioxidants, antibacterial, and antimicrobial properties. These ingredients not only help treat acne, reduce pigmentation, and heal blemishes but also prevent skin infections. 
Skin Type
Every product is different; some are made especially for dry skin, oily skin, or even combination skin. Considering your skin type, different concentrations and ingredients are used to ensure you get the best results. If you are unsure of your skin type or which ingredients work best for you, choosing a soap that suits all skin types is a wise option.
Acne Type
Inflammatory acne is caused due to bacteria, and you usually observe redness, swelling, and clogged pores. This type of acne has many forms, like cysts and nodules. It can be difficult to treat this type of acne as the inflammation is rooted deeper into the skin. If you are suffering from inflammatory acne, we recommend choosing the soaps whose ingredients are rich in anti-inflammatory properties. (3)
On the other hand, comedonal acne (non-inflammatory and involves flesh-colored blemishes) is a type of acne that is closer to the skin and is mainly caused by excess oils and dead skin cells clogging the pores. This type of acne can be treated with soaps that can remove debris and excess oil in the pores and keep them clear.
Type Of Soap
There are millions of acne cleansers available on the market, making it hard for you to figure out which one to choose. There is a common tendency for people to look for foaming cleansers (because there is a myth that if a cleanser doesn't foam, it is not cleansing). But did you know that foaming soaps can actually strip away skin's natural oils, causing the skin to produce more oil? 
Opt for a bar soap that foam the appropriate amount and doesn't contain any chemicals that may cause irritation. Also, make sure the package indicates that the soap can be used for facial skin as well. All Kama Ayurveda soaps are safe for use on the face.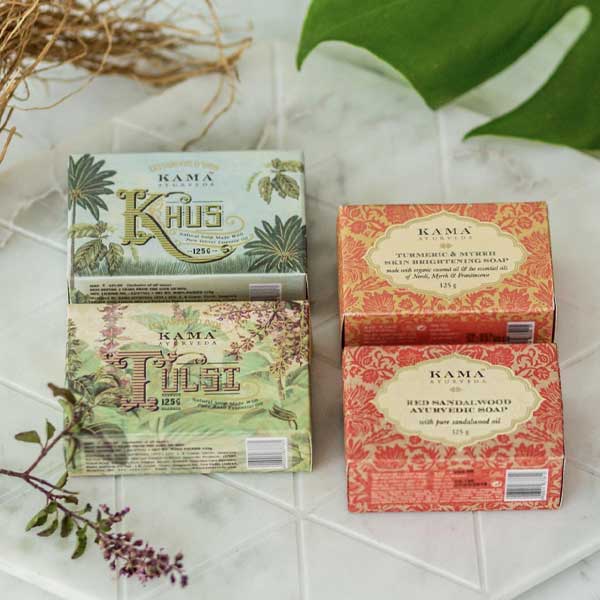 Adverse Reactions
Always remember that what works great for one person's sensitive skin can still wreak havoc on your skin. This is simply because every skin composition is different. Therefore, do not opt for a soap just because the product is good on your friend's skin or recommended by a dermatologist. Also, make sure you introduce new products slowly and carefully to your skin. Stop using it if you experience irritation of any type.
Cleansing products can sometimes cause skin reactions like peeling, red, dry or even burning skin, so always patch test the product on the back of your hand before using it on your face. As everyone reacts differently to certain ingredients, be mindful of what you apply to your face.
Acne Skincare Basics To Take Care Of Your Skin
The following acne skin care tips help you limit breakouts and prevent skin irritation.
Cleanse your face twice a day. Use an anti-acne cleanser every morning when you wake up and again before going to bed. If you are working out and are incredibly sweaty, wash your face either with a cleanser or at least with plain water as soon as possible, as perspiration can worsen your acne.
Every time you wash your face with a cleanser, apply a little bit of the product to your fingertips and gently dab it into your face. Later, rinse with lukewarm water. Avoid scrubbing, as it can dry out your face and damage the skin. Do not use a sponge or washcloth, as the round surface can irritate the skin.
Acne is not limited to just the face. So make a routine and treat the other parts of the body also that have acne. 
Do not limit skin care to just applying active ingredients that treat skin concerns. Never step out wearing a non comedogenic sunscreen with an SPF of at least 30 and offers UVA and UVB protection. For acne-prone skin, experts recommend using a water or light liquid-based sunscreen. Also, limit your time in the sun (especially between 10:00 a.m. and 2:00 p.m.) While you are out in the sun, cover exposed skin with scarves and hats with at least a 2-inch brim.
Read - Which Is The Best Face Wash For Pimples and Marks?
Frequently Asked Question On The Best Soap For Pimples
Is Bar Soap Good For Acne-Prone Skin?
If the bar soap has the right ingredients and doesn't clog pores, there is no reason for you to avoid a bar soap to treat acne. Kama Ayurveda's Red Sandalwood Soap is one of the best soaps for acne prone skin.
Can Bar Soap Dry Up Acne?
Some soaps for pimples can dry out the skin. If you are experiencing excess dryness, stop using the soap immediately and consult your dermatologist. They will recommend an alternative cleanser and a moisturizer suitable for acne-prone skin. 
Can I Use A Body Soap To Cleanse My Face?
Body soaps are generally harsher when compared to face cleansers. They also contain fragrances that can irritate facial skin. So it is better not to use body soaps on facial skin. Opt for a soap that is suitable for both body and the face from Kama Ayurveda's range of natural soaps. 
How To Stop Pimples On The Face?
To avoid pimples from occurring, make sure you follow a proper diet and skincare routine. Know your skin type and choose a soap that is suitable for your skin. Keep the skin hydrated throughout the day, and avoid picking the pimples.
How Often Should One Use An Acne Soap?
The correct frequency always depends on your unique skin and its needs. If your skin is oily or is frequently exposed to dirt, dust, and potential buildup from the products, use the soap twice daily. But if you have dry, easily inflamed, or sensitive skin, twice a day can be overwhelming. In that case, use the soap before going to bed, and rinse with plain water the rest of the time. 
What Ingredients In The Bar Soap Make Acne Worse?
Comedogenic and rich emollient formulations cause breakouts to get worse. Products that contain Sodium Lauryl Sulfate (SLS) work as a detergent and strip away skin's natural oil or sebum, leaving your skin dry and irritated. So, make sure you avoid such products. 
Stay away from the soaps with exfoliating materials (facial scrubs). While these are far better than scrubbing brushes and mechanical devices, they can still irritate skin and worsen acne. Our skin barrier has an active bio flora of yeast and bacteria. If the skin is excessively scrubbed or irritated, the skin barrier can break down, making it more susceptible to bacteria and yeast, which causes more inflammation of the skin.
What Are The Skin Conditions That Are Irritated By Acne Soaps?
While treating acne is the primary thing one with acne-prone skin should focus on, there are also other skin conditions (like seborrhea or Rosacea) that need utmost attention. If you are suffering from Rosacea (a skin condition that causes intense facial flushing and redness) or Seborrhea (a common yeast-based skin inflammation), you need to be extremely careful with your acne-treatment approach as these two conditions can be easily aggravated by anti-acne cleansers. So while getting rid of pimples, you are more likely to bring in additional problems. 
Most acne soaps and cleansers often focus on exfoliating or drying the skin, as their only goal is to unclog pores and reduce sebum and oil. But all this drying is highly inflammatory and irritating to the skin with seborrhea and Rosacea. If you happen to have any of these conditions, it is highly recommended to consult a dermatologist before trying any skin care product. 
If you wish to discuss your skin concerns before picking a product, you can book a free consultation with our Ayurvedic beauty experts.