India is known to be the birthplace of Ayurveda and also a country where beauty has always been about extracting India is known to be the birthplace of Ayurveda and also a country where beauty has always been about extracting the best benefits from all the natural recipes. From Multani Mitti face packs to egg, yogurt and Henna mask for hair, the beauty recipes have been passed down from generations in India. Therefore, some of the homegrown Indian beauty brands continue to harness the magical powers of natural ingredients to create skincare products that enhance the health of your skin. So, today we will walk you through some of the best skin care products In India and top brands that work wonders for your skin.
10 Best Made In India Skincare Products To Meet Your Needs
When we talk about the best Indian beauty products, Kama Ayurveda is the first brand that comes to our mind. The brand is well known for its legitimate Ayurvedic beauty products. Kama Ayurveda provides cruelty-free pure, natural, and safe beauty treatment products with zero artificial additives. Here is the list of some of the best products of the beauty brand that are a must-try for anyone looking to take care of their hair and skin holistically. Be it a night serum or hair oil, or hair colour kit; this list has it all.
Kumkumadi Thailam is a rare, unadulterated, and 100% natural product. It is an original Ayurvedic formulation that inherits the goodness of powerful natural ingredients such as Saffron, Sandalwood, Mulethi, Banyan Leaf, Lotus, and Manjistha. The product acts as an essential beauty treatment for your face and helps in providing you with an everlasting glow. Natural oils and herbs blend makes your skin look more youthful and radiant.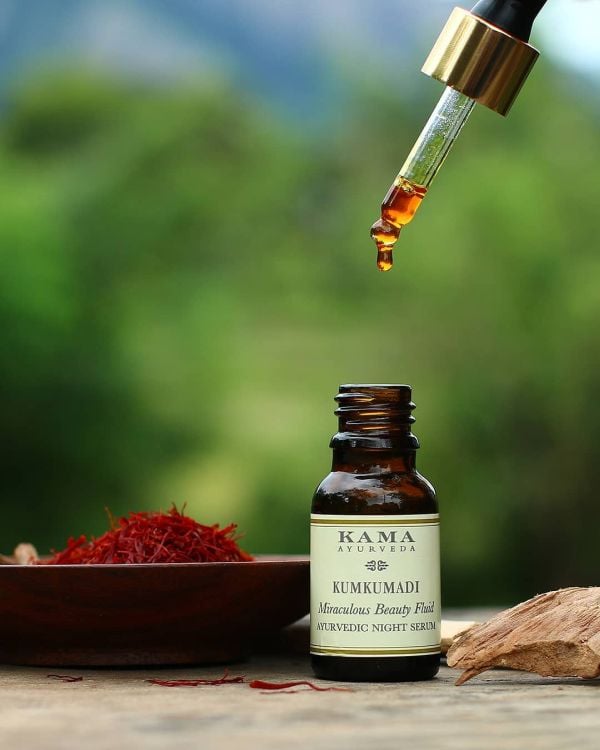 How to Use
Post cleansing, toning & Bi-phase Skin Essence, apply to damp skin, gently massage with upward strokes until the serum is completely absorbed. Use the ring finger for the under-eye area. Leave it overnight for the best results.

Read - Kumkumadi Tailam : Ultimate Guide To The Miracle Beauty Oil
If you've been looking to add a face essence to your skincare regime, Kama Ayurveda has a unique bi-phase skin essence that is packed with Kumkumadi Oil to hydrate and illuminate the skin. The two-phase formula has the iconic Kumkumadi Thailam and water-based actives that lock in moisture and lend skin a natural glow.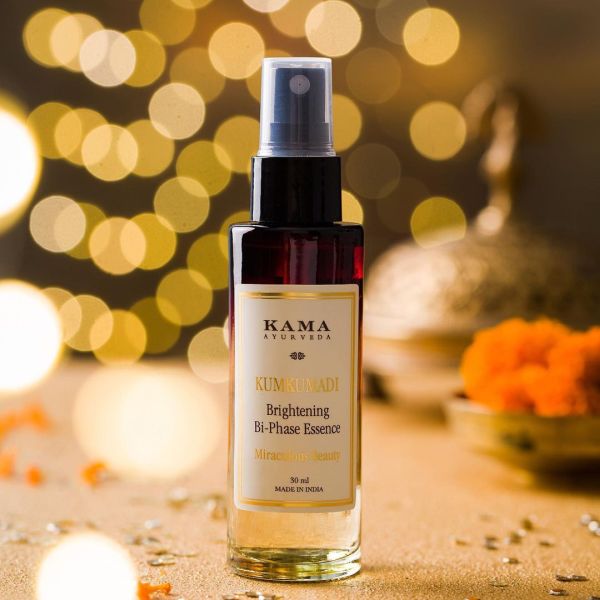 How to Use
Use this facial essence A.M. and P.M. Shake well just before use to mix the two phases and spritz onto face & neck, post cleansing and toning. Gently pat onto skin. Follow with a Sunscreen/night cream or moisturiser. It can be used on-the-go anytime when needed.
This night cream is the perfect treatment for relieving signs of ageing, brightening up your complexion, and promoting cell growth. It is a powerful Ayurvedic formula created with Kumkumadi Oil, Aloe vera, Mulethi, Saffron, and Manjishtha. All these ingredients help in reducing pigmentation and repairing your fine lines. It is a leave-in night treatment if you have naturally radiant skin.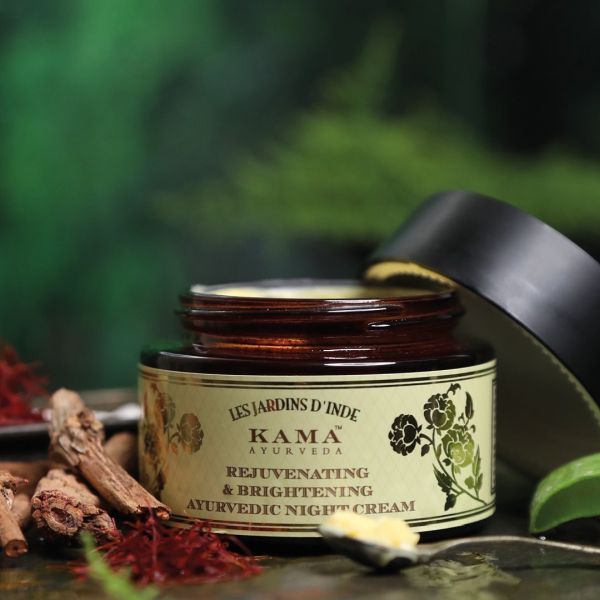 How to Use
Post cleansing, toning & Bi-phase face essence, apply to damp skin, gently massage with upward strokes. Massage it until it's fully absorbed and leave overnight. Use the ring finger for the under-eye area.
Read - How To Choose The Best Night Cream For Dry Skin?
A nourishing day cream that softens, moisturizes, and protects your smooth and soft skin. It is made from a blend of pure ingredients like Lotus, Saffron, Banyan Leaf, Mulethi, Sandalwood and Manjistha. This product is an ideal skin treatment processed in Sesame oil and Milk. It can be used daily to hydrate and brighten the skin.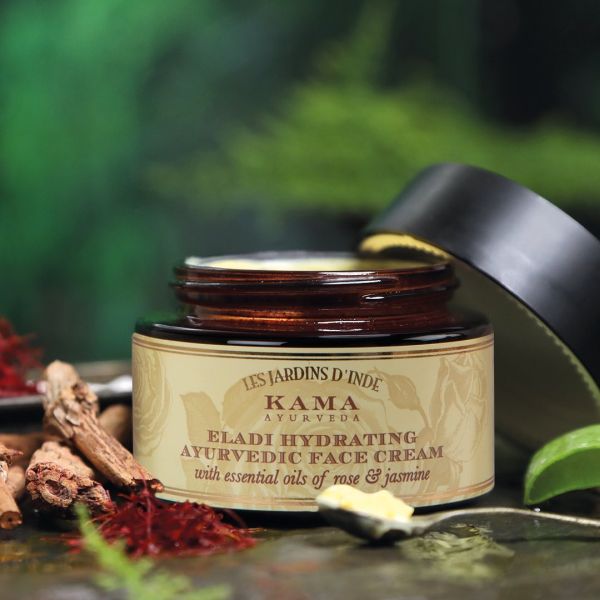 How to Use
Massage this product with upward strokes daily after cleansing your face.

Kama Ayurveda Pure Rose Water is made from steam distillation of the roses of an Indian region - Kannauj. These roses are unique as they inherit some qualities similar to Bulgarian roses. It helps balance and restore the skin's pH level and further tightens your skin. Kama Rose Water is a non-alcoholic refresher that helps remove the residue of the previous cleaning procedures. It also refines your pores and tones your skin for moisturizing treatment.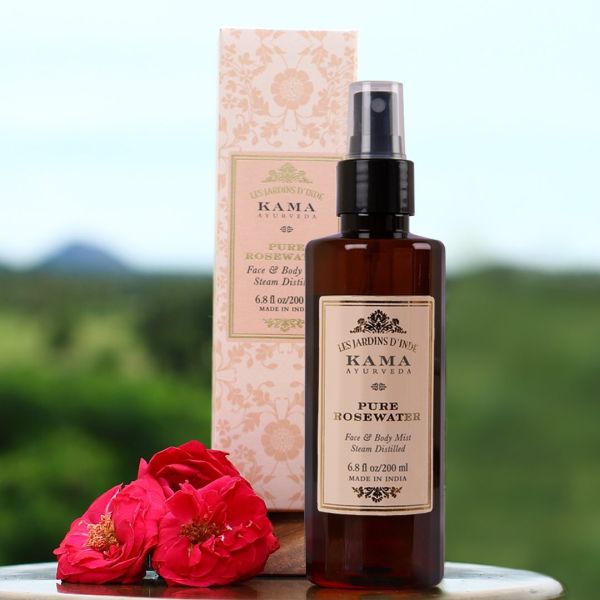 How to Use
Spray the rosewater onto your face and body to witness a refreshing effect.

Read - 5 Secrets About Kama Ayurveda Rose Water
Kama Ayurveda Anti Acne Foam is a soft yet potential acne-clearing cleanser that helps in reducing breakouts and blemishes. It is made up of ingredients like Tea Tree, Neem, and Tulsi, which are miraculous for healthy skin. These ingredients restore the lost moisture of the skin and lessen post-acne scars. It also helps detoxify, clear blocked pores, and protect your skin against inflammation without over-drying. In addition, the foam effectively clarifies your skin and leaves behind a therapeutic after-feel. Regular use of this product can ensure clear and luminous skin.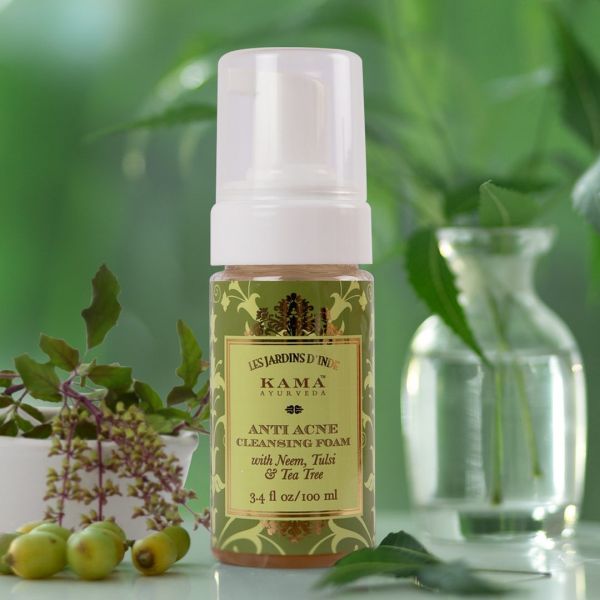 How to Use
Post cleansing, toning & Bi-phase Essence, apply to damp skin, gently massage with upward strokes.
Read - 8 Best All Natural Face Wash And Soaps For Your Skin
This Ayurvedic face scrub is a luxuriant free exfoliator that combines the potent ayurvedic Kumkumadi oil with other ingredients suitable for skin repair. This natural beauty scrub comprises a few well-known ingredients: Walnuts, Saffron, Almonds, Sunflower Seeds, and Lotus. All of these ingredients benefit your skin by reducing breakage, treating pigmentation, scrubbing away the driest skin spots and a lot more. The Saffron naturally brightens the skin. Almonds and Walnuts deeply nourish and moisturise the dry skin and leave it glowing.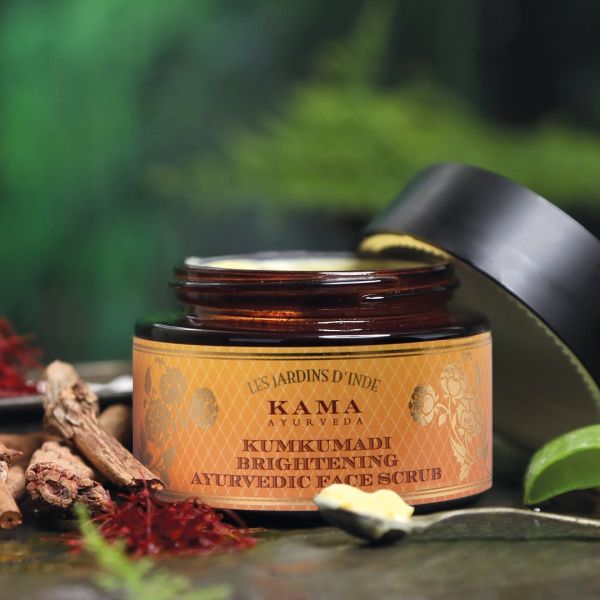 How to Use
First, cleanse your skin and after dampening it with lukewarm water, take an appropriate amount of the scrub and apply it to your face. Massage gently and then rinse off. Follow this process twice a week for noticeable results.
Read - Which Natural Face Scrub Is Best Suited For Your Skin?
This is the perfect hydrating face wash loaded with the goodness of pure Rose and Jasmine oils. The product helps to clean the skin thoroughly and remove light makeup gently. Its primary ingredients are Aloe Vera, Black Cumin seeds, Vetiver and Jojoba oil. The Jojoba seed oil softens and rejuvenates skin, minimises fine lines, and Rose has excellent emollient and hydrating properties keeping the skin soft & supple. Further, the antibacterial Vetiver root and Black Cumin seeds protect your skin from pollutants.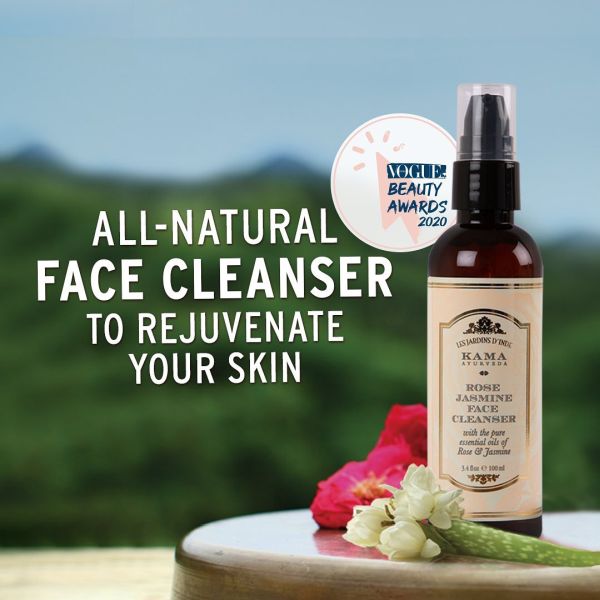 How to Use
Use an appropriate amount of the product on damp skin, give it a light massage, rinse off the face with water, and pat dry.
This product is a natural skin illuminator and detanning oil for your face and body. It is a classical formula that helps lighten up your complexion and repair and soften your skin. The ingredients that make this product brilliant for your skin include Turmeric, Sesame seeds, Almonds and Vetiver. Turmeric can repair uneven skin tone and marks with its antioxidant action. Sesame oil gives a hydrating and nourishing base to your skin. Further, the Vetiver helps in relieving the environmental damage to your skin.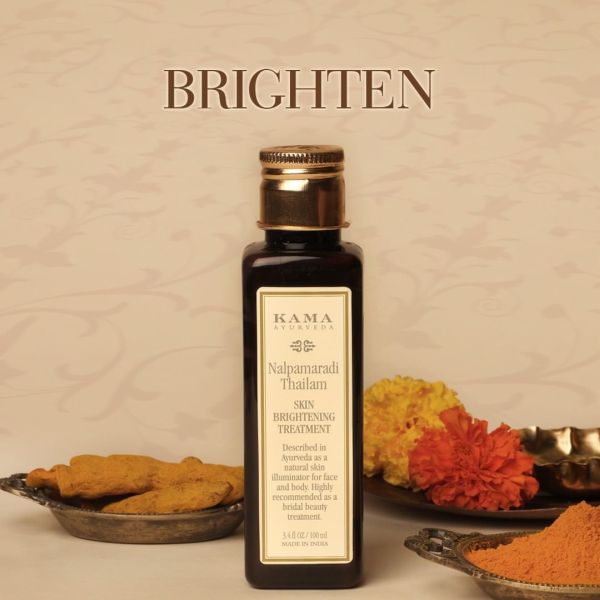 How to Use
Gently massage this product into your skin and leave for 30 minutes to get the best results. Then, cleanse with a mild cleanser.
Read - How To Use Nalpamaradi Thailam To Remove Tan
Wrinkles are one of the most common, yet often overlooked skin concerns that can be caused by a range of factors including aging, sun damage and environmental factors.

This wrinkle repair and firming face oil has powerful natural ingredients such as Indian Gooseberry, Citron Fruit, Indian Madder, Liquorice, Oleic Acid, Arjuna Extracts and Carrot Seed that help reverse signs of ageing naturally. The facial oil is also clinically proven to reduce dark circles by 31%.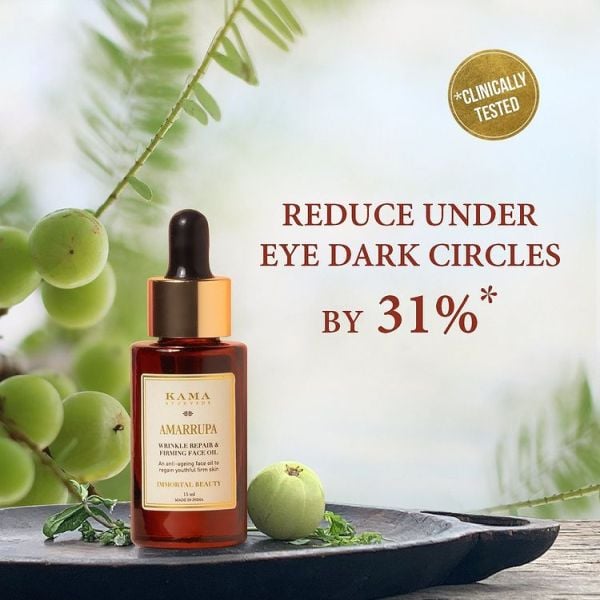 How to Use
You can add this skin firming facial oil to your day and night skincare routine. Make sure to apply it properly on the face and on specific concerned areas like neck & crow's feet. Start by moistening skin with a natural water-based toner and then, massage the oil gently in upward strokes until fully absorbed. We recommend 2-3 drops for Normal to Oily Skin, and 4 drops for Dry Skin. Follow with Sunscreen for day use.


Skincare is an integral part of your beauty regimen. At any point in time, you will want to keep your skin looking its best, and this is where skincare brands come into play. Discover the best skincare brands in India so that you can use them to keep your skin in tip-top shape.
10 Best Skincare Brands in India For Healthy Skin
With the changing weather come dark spots, pigmentation, and other skin troubles. Following even a simple skincare routine with the best products suited for your skin can help you maintain skin and health. Therefore, choosing the right skin care brand for your skin should be your priority. We've curated the list of the best skincare brands in India for you. These brands will rejuvenate your skin and protect it from environmental damage.
1. Kama Ayurveda
To promote the message of authentic Ayurveda universally, Kama Ayurveda was started in Delhi, India, in 2002. Since then, the brand has been creating pure and reliable Ayurvedic products. All the products of Kama are of high quality, beautifully packed, and based on wisdom derived from Ayurveda.

To maintain the true essence of nature in all of their products, Kama extracts all the ingredients from plants and herbs by collecting them from natural habitats. The best thing about this Indian brand is that all of its products are free from artificial fragrances, colours, and petrochemicals. Some of the products of Kama Ayurveda that you can try out are body lotions, body oils, face cleansers, face scrubs, shampoos, and natural hair colors. It's one of the best ayurvedic skincare brands in India.
2. Forest Essentials
Forest Essentials is an everlasting delicious-smelling brand that you won't resist using. If you're in the mood to build a strong commitment with Ayurveda, then Forest Essentials can be your go-to skincare brand. It introduces all the excellent homegrown ingredients in its products that are miraculous for your skin. This brand was started in 2001 by Mira Kulkarni and aimed to deliver the benefits of Ayurvedic concoctions but in a modern formula.
3. Cetaphil
Cetaphil is a gentle skincare brand recommended by dermatologists for skin issues. The Cetaphil brand was developed in Texas in 1947 and is now available in more than 70 countries. Currently, millions of people are using this brand to deal with their sensitive skin. It offers a broad product line, including moisturizers, baby care, cleansers, and products for common skin problems. Cetaphil entirely dedicates itself to providing its users with gentle skincare formula and helping people get glowing & healthy skin. Moreover, this brand will save your skin, especially during winters. The brand is not based on natural and organic ingredients but provides gentle products that are safe for use.
4. Clinique
Clinique is a prestigious line of skincare products and cosmetics available in 130 countries. The brand is based on a 3-step skincare regime that includes cleansing, exfoliating and moisturizing. Clinique was initiated under Estee Lauder's brand in 1968 and is an American skincare brand. Clinique prides itself on selling customized products for its users rather than producing universal products for everyone, making them stand out. Further, the cosmetic products of Clinique make great skin look even better. If you wish, you can also explore their wide range of products and enhance the glow of your skin.
5. The Face Shop
Being founded in 2003 and headquartered in Seoul, The Face Shop is inspired by nature. It is a true believer that everyone has their natural beauty. They aim at offering the highest quality products by using traditional ingredients and marrying them with Korean technology to meet everyone's skincare needs. The brand's willingness to deliver endless beauty to customers is highly appreciable. It's one of the best Korean skincare brands in India.
6. Innisfree
Innisfree is famous as a natural brand that offers the benefits of nature by extracting ingredients from the island of Jeju. It is a cosmetic brand of South Korea that Amore Pacific founded in 2000. Innisfree renders a considerable range of skincare products like cleansers, masks, serums, toners, lip balms, moisturizers, and other targeted treatments. Further, Innisfree also believes in the magical powers of natural herbs and remedies. Despite its popularity, Innisfree always tries its best to provide the best products to users and remain faithful to its core mission.
7. Juicy Chemistry
Juicy Chemistry is a skincare store that works online and offers completely fresh and preservative-free products. It's one of the best organic skincare brands in India. The brand has its headquarters in Coimbatore, Tamil Nadu, India. If you're looking to switch from chemical products to natural ones, this brand can be a good choice. Every product is chemical-free and comes in rustic fuss-free packaging. You can find a range of body care, skincare and bath products on their website. They have a legitimately long list of products to offer. 
8. Neutrogena
Neutrogena is one of the best skincare brands that one may find in India. It was founded in 1930, and its headquarters is in Los Angeles, US. One of the unique characteristics of this brand is that it offers the best quality products for anti-acne, blackheads, and gentle care. Apart from this, they also provide face wash for deep cleaning and foaming cleansers. Neutrogena offers a range of products suitable for different skin types, whether oily, dry, or a combination of both. 
9. Plum
Plum is a 100% cruelty-free and vegan brand in India and does not use animal-derived ingredients. All the products of Plum are free of Parabens, Propylene Glycol, DEA, SLS, and Phthalates. They have products for all skin types. Moreover, the brand avoids the usage of non-recyclable plastics for packing its products. All the products of Plum are infused with superior ingredients and inherit the goodness of nature.
10. The Body Shop
The Body Shop was initiated in Brighton in 1976 by the late Anita Roddick. Her products stand out because they are made up of ingredients directly sourced from the farmers and are not tested on animals. The brand is well known for selling environment-friendly and sustainable skincare products at affordable prices. Moreover, the brand captures a large audience with its long-lasting fragrances and pretty packaging. 
Skincare is such a big part of our daily lives. We spend a lot on it, and we use it all the time. India's population is about 1 billion people, and with so many people using skincare, we must do our research to make sure we pick the best skincare brands for people in India. This page educated you on India's top 10 skincare brands that are worth carrying out your research on.