Many people nowadays have made hair washing a part of their routine. However, there's still a question mark on how often a person needs to wash their hair. It can vary from person to person; some like to clean them twice a week, some thrice a week, and some daily. 
However, washing your hair too much can also reduce the sebum that your scalp produces, which is vital to shiny and healthy hair. Although it is okay to wash your hair every time you feel it's unclean to touch, overwashing can result in hair problems. This article will help you out in planning the proper hair regimen!
How Often Should I Wash My Hair?
There is no hard and fast rule for hair washing. Some people find it acceptable to wash their hair daily, while others wait several days. Although, most people wash their hair when it becomes dirty and oily or when a lot of product has been built up on the scalp. 
It can be a little tough to decide the optimum frequency because everyone has different types of oils levels and hair. However, a person can look for some signs before washing their hair, including hair appearing dirty, dull appearance, oily look, and scalp a buildup of hair care products. As long as your hair feels and appears clean, there's no need to wash them.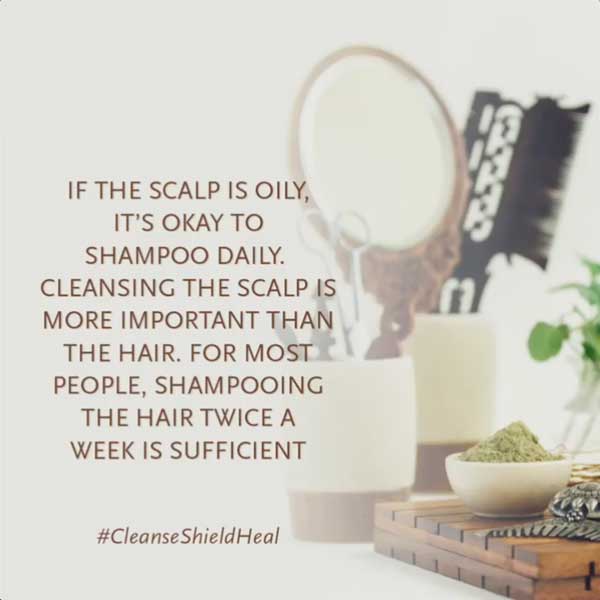 Signs You Are Washing Your Hair Too Often
People, to keep their hair clean, may wash them too often. But how will one know how much is too much? There are specific hair concerns from which you can come to know that you are washing your hair too often. Those effects can be hair breakage, dry, brittle, and highly frizzy hair, scalp flaking due to dryness, hair color fading quickly, and hair brushing not smooth anymore. 
A dry scalp can further lead to increased hair shedding. In addition, extreme dryness can also trigger other scalp problems, such as the overproduction of oils and sebum as a replacement. This will eventually lead to inflammation, follicular clogging, and scalp infections.
Factors That Influence How Often To Wash Hair
Several factors influence a person on how often he/she should wash their hair. Below mentioned points are some of them:
1. Hair Type
Frequency of washing hair can also depend on your hair type like for example; if you have curly or wavy hair, then it needs to be washed less frequently than straight and thin hair. Since straight hair gets easily coated by sebum, they look greasy, whereas curly or wavy hair tends to be dry as the oil doesn't stand easily. Overwashing hair can lead to dry and damaged hair, especially when combined with tight buns or braids.
2. Oil
One of the main reasons behind dirty hair is oil, as it can leave one's hair clumpy and limp. The oil you produce is directly proportional to your age, environment, genetics, and sex. Teenagers produce much more sebum than children and adults. Your scalp will slowly dry as you age if you have struggled with oily hair most of your life.
3. Hair Length
Oil glands in your scalp need to make it down to your hair length to make them moisturized. That is why the longer your hair is, the drier they get. It becomes hard to keep them well nourished.
4. Sweat
If you are a daily exercise person, then it is common that your hair will get sweaty. The amount of sweat you produce is a significant factor in how frequently you need to wash or rinse your hair. Sweat can make your hair smell and look dirty; it is because work spreads sebum present in your hair. Although, it is recommended that you wash your hair every time after heavy workouts and wear a helmet or hat for an extended period.
5. Dirt
Roaming out in dust and pollution, gardening, cleaning, and similar tasks may lead you to wash your hair. This dirt and dust get trapped on the hair, leading to frizziness and dullness. Moreover, this may also exacerbate your allergies, so it becomes important to wash your hair correctly at such times.
6. Hair styling products
All the different kinds of styling products you make use of build-up on your hair and scalp, further leading to damage and irritation. You must wash your hair regularly if you use these heavy products frequently.
Tips To Shampoo Less
Here are a few tips that one can follow to reduce the number of times you wash your hair:
1. Conditioning Treatments
People with long hair should focus more on its conditioning; they must be more careful about the hair lengths rather than the roots. Using natural oils such as Olive oil, Jojoba oil, and Coconut oil help keep the hair healthy. Also make sure that every time you shampoo your hair you use a conditioner or a post-wash hair mask to replenish lost moisture from hair.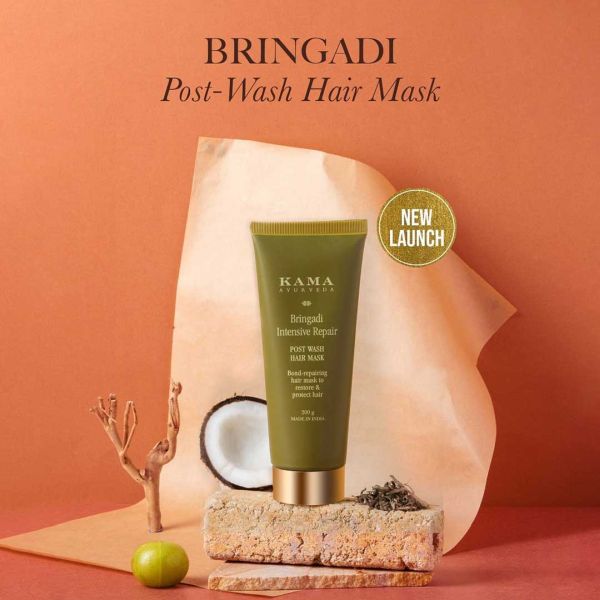 2. Dry Shampoos
Nowadays, dry shampoos are in high demand as they help keep hair fresh for some time, even without washing them. These shampoos are a replacement as they can help get rid of excess oil from hair but cannot be used daily. They contain powders that are very good at absorbing hair oils.
3. Shampoo your roots
Too much shampoo can cause damage to your hair. Hence, shampooing just the roots of your hair is always recommended, not the lengths. Shampooing your roots will ensure that your scalp is clean and will remove all the excess oil. Furthermore, this prevents your hair from breaking and getting dry.
Best Shampoos To Keep Your Locks Clean and Healthy
When you use natural hair cleansers with Ayurvedic ingredients, they help you maintain a healthy and clean mane without stripping essential oils from the scalp. Here are our top recommendations for the same -
1. Bringadi Hair Cleanser
Kama Ayurveda's Bringadi Hair Cleanser is infused with powerful Ayurvedic ingredients and is free of SLES (sulfates), parabens, and petrochemicals. The secret to India's lush, glossy hair is this traditional Ayurvedic recipe consisting of potent herbs extracted into pure sesame oil and milk. 
Further, it acts as a natural conditioner and is helpful for lush hair growth that nourishes your scalp while cooling. Also, it includes Indigo, Bhringraj, and Gooseberry to promote hair growth. In addition, they also help reduce hair loss, encourage hair growth, and hydrate your scalp deeply. Moreover, it is 100% natural and works wonders for treating scalp buildup.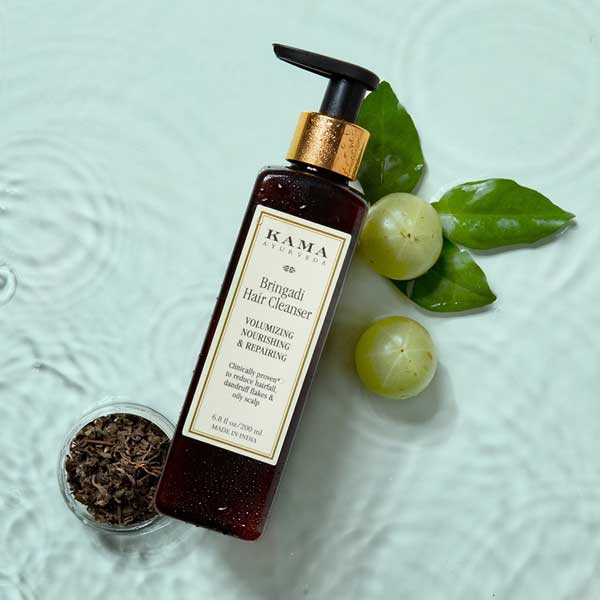 2. Rose and Jasmine Hair Cleanser
Rose and Jasmine Hair Cleanser by Kama Ayurveda is a mild, safe, natural hair cleanser free of SLES (Sulphates), Parabens, and Petrochemicals. Further, it is infused with potent Ayurvedic ingredients that effectively rebuild and revive your dry and damaged hair. Besides, the vegetable source Soy Protein binds moisture, improves your hair's tensile strength, and promotes elasticity.
In addition, the organic Aloe Vera juice, along with Hibiscus Extract, reduces hair loss, promotes growth, and hydrates your scalp deeply. Besides, pure essential rose and jasmine oils protect your hair's health and maintain vibrancy. It strengthens hair weakened by chemical processes, heat styling, and environmental exposure by gently restoring moisture. Furthermore, Rose and Jasmine hair cleanser cleanses hair and scalp effectively without stripping its natural oils, leaving it soft and shiny.
Read - Which Is The Best Shampoo For Frizzy Hair?
3. Sanobar Hair Cleanser
Sanobar Hair Cleanser by Kama Ayurveda is a regular-use hair and scalp cleanser enriched with nourishing Hibiscus and Amla extract that clarifies and tones your oily scalp without stripping away its essential moisture.
Further, woody and purifying cypress essential oil revitalizes your scalp to stimulate hair growth, and refreshing Orange oil is a natural antibacterial agent that invigorates your scalp and restores hair's naturally healthy shine. In addition, this herbal blend naturally cleans, nourishes, protects hair with every wash and is over 50% natural. 
Read - Which Shampoo Is Best For Hair Growth And Thickness?
Best Conditioner To Replenish Moisture After Shampooing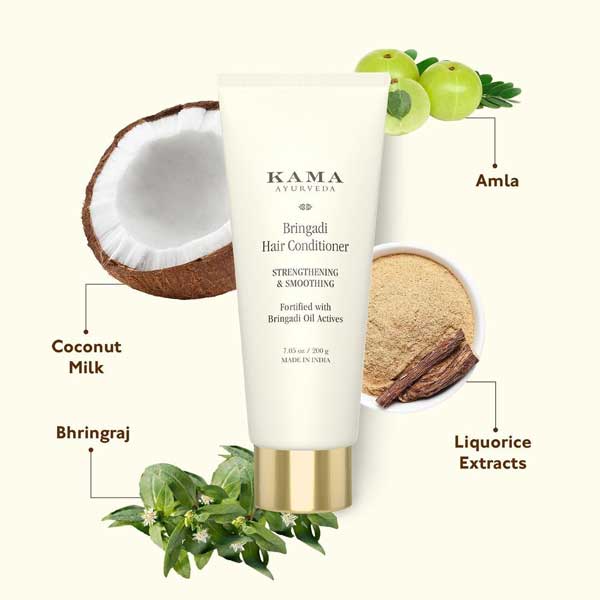 Harnessing the power of 'wonder herb', Bhringraj, enriched with Coconut Milk and precious Ayurvedic herbs, Bringadi Hair Conditioner helps hair get stronger and shinier. This Ayurveda-based formula is an ideal solution to mitigate damage caused by heat, chemical treatments & environmental aggressors.
FAQS
Is it unhealthy to wash your hair everyday?
It's not a rule; you should see what works best for your hair. It's not unhealthy to wash every three days. If you have it dry, you're doing fine.
What's the best way to wash your hair?
You should follow the below steps to prevent damaging your hair when washing it:
Always use a non-harsh natural shampoo. 
Use less amount of shampoo and massage it into your roots.
Avoid directly washing the hair shafts.
Allow the shampoo to run over the post during rinsing
What is the impact of overwashing? 
Shampoos are meant to cleanse the hair and scalp by removing excess oil and debris from the hair. Although this can help the hair retain a clean look, harsh shampoos can dry the hair and scalp and cause damage and irritation.