As we age, the diameter of individual hair strands decreases, leading to hair that is thinner and less voluminous. If you want to increase your hair volume naturally, you need to understand that there are various factors responsible. Your hair can lose volume due to aging, stress, genetics, hormonal changes, and even poor diet.
In this article, we will help you achieve voluminous, fuller hair by managing these factors. Here are some of the best natural remedies and hair care tips that you should follow to achieve the hair of your dreams.
1. Follow A Balanced Diet
The key to boosting hair health and increasing hair volume is to have a balanced diet. Our diet should contain necessary Vitamins (Vitamin B and C) and minerals like zinc, iron, and copper.

These nutrients help in promoting hair growth, strengthening hair follicles, and thus increasing hair volume. One must include the following five superfoods in their diet to get long, thick, and healthy hair.
Amla
Amla is an age-old herbal remedy for various hair problems (from preventing gray hair to promoting hair growth and volume). Try including one Amla in your diet every day. Experts recommend having Amla on an empty stomach to get phenomenal results.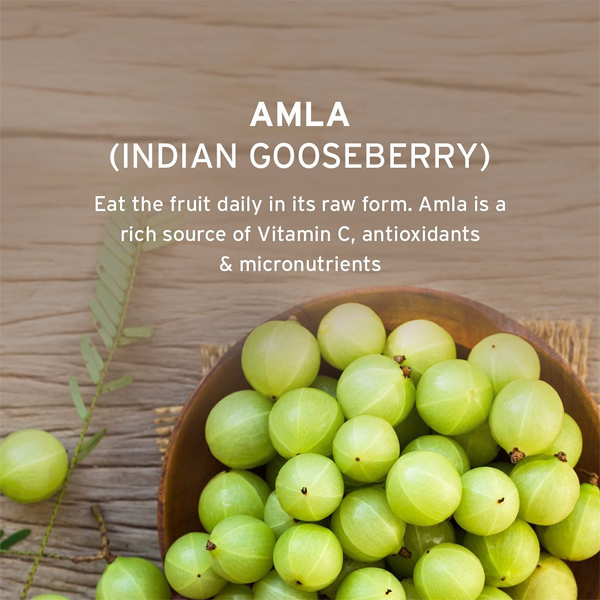 Figs
Figs are a great source of calcium, magnesium, potassium, vitamin-A, vitamin-C, and iron. These are the proper nutrients one requires to have healthy hair growth. Figs also help in conditioning your hair.
Cucumbers
Cucumbers are rich in silicon, calcium, sodium, sulfur, etc., which help hair growth and strengthening. No wonder they are called superfoods. Therefore, for voluminous hair, include cucumbers in your diet. They will make your hair silky, shiny, and lustrous.
Eggs
Eggs are a great source of amino acids and biotin, which help hair to grow faster and thicker. Include eggs in your breakfast to enhance the health of your scalp and hair.
Sprouts
If you are vegan, you can replace eggs with sprouts to include amino acids in your diet. Along with amino acids, sprouts also are high in vitamins, minerals, and proteins. Consuming them every day will guarantee you will have healthy, voluminous hair.
2. Use Shampoo That Adds Volume
While choosing a shampoo for your hair, always remember that not every shampoo works for every hair type. Pick the one that is best suitable for your hair. Moreover, always look out for sulfate-free and natural shampoos to maintain hair volume.
Why should you avoid shampoos that contain sulfates? Studies say that Sulphates can harm the natural hair protein (leading to loss in hair volume) and cause irritation on sensitive scalps. On the other hand, sulfate-free and natural shampoos are mild on the scalp and do not cause any harm to your hair in the long run.
The most common question most of us have while using shampoo is, "Does washing my hair every day reduce hair volume?". The answer is no, but you must be cautious about your hair type and the shampoo you use. You can shampoo your scalp every day if you have an oily scalp. Otherwise, shampooing the hair twice or thrice a week should be enough. 
Here are the best shampoos to increase hair volume -
Kama Ayurveda's Bringadi Hair Cleanser
Kama Ayurveda's Bringadi Hair Cleanser is a repairing, nourishing, and volumizing hair cleanser that is clinically proven to reduce hair fall, oily scalp, and dandruff flakes. The Ayurvedic hair cleanser is 96% natural, and is also free of sulfates and parabens. It is suitable for all hair types (including colored and treated hair).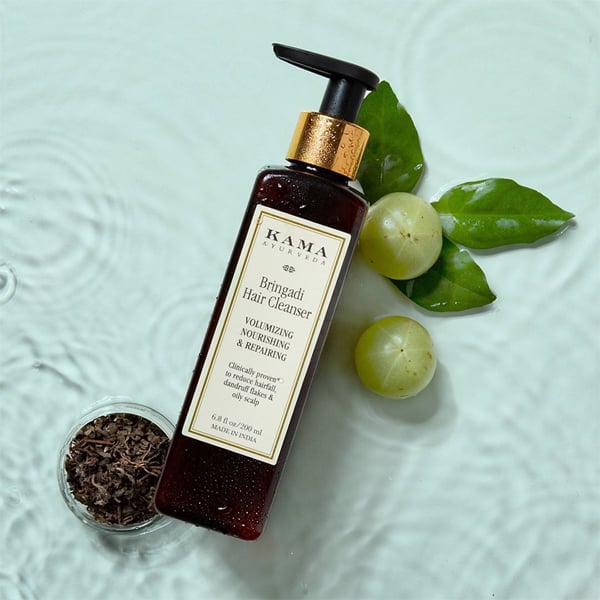 Bringadi Hair Cleanser is clinically proven to reduce hair fall and oily scalp in just a month. Ingredients like Amla, Bhringraj, and Liquorice help reduce hair fall and encourage hair growth and volume. The unique formulation of Liquorice, Indigo, Bhrigraj, and amla enhance the natural volume of your hair after every wash. 
It nourishes the hair follicles by penetrating deep into the scalp and also repairs your hair's ends. This results in healthy follicles which lead to voluminous hair. 
Kama Ayurveda's Himalayan Deodar Hair Cleanser
Kama Ayurveda's Deodar Hair Cleanser is a scalp toning and purifying natural hair cleanser for thinning and weak hair. It helps promote hair strength, reduce breakage, and relieve hair loss while enhancing texture, shine, and volume. The Ayurvedic shampoo is free of sulfates (SLES), parabens, and petrochemicals. It gives volume and bounce to your hair without stripping off the natural oils after every wash.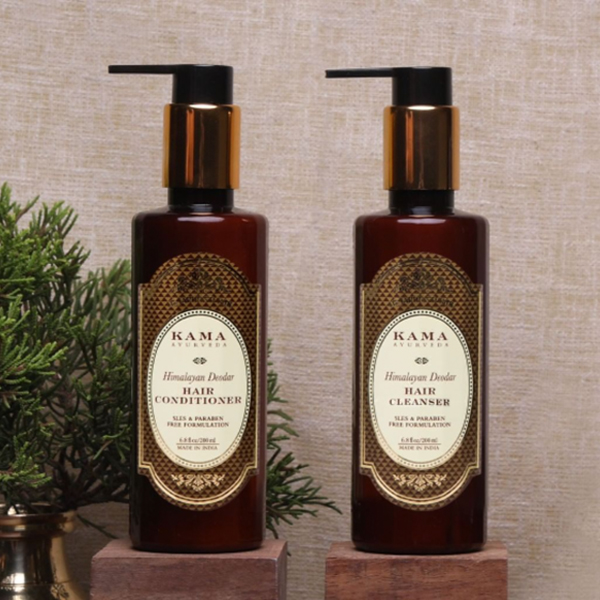 The gentle formulation clarifies the hair leaving them soft, frizz-free, and more manageable. It fights the drying effects of the sun and environmental damage. The Vegetable sourced Soy protein binds, improves, and moisturizes the tensile strength of the hair follicle and shaft. 
Hibiscus Extracts and Organic Aloe Vera Juice balance and remove excess oils while creating volume and bounce to your hair. Pure essential oils of the Himalayan Deodar plant help stimulate the scalp for renewed hair growth. The result is strong, healthy, and voluminous hair. 
3. Manage Your Stress
Stress is one of the main contributors to hair loss. Chronic and excess stress lead to hair thinning and premature hair graying as well. So, try to destress with simple activities like yoga. Yoga will not only help relieve stress but also boost the flow of oxygen and blood to the scalp. This, in turn, helps hair growth and volume.
A Yoga Asana, known as Balayam, is the simplest way to take care of a plethora of hair problems, including hair fall, thinning, etc. This Yoga Asana includes rubbing your fingernails for a minimum of 10 minutes every day. It is recommended to rub the fingernails leaving out the thumbs, as rubbing thumbnails together will grow facial hair.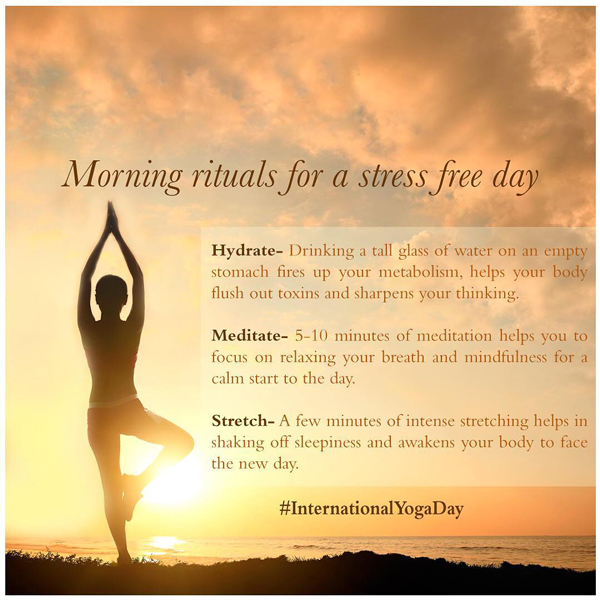 4. Regular Scalp Massage
Regular head massage is a great way to help blood circulation and promote hair growth. A clinical study in Japan provided scalp massages on nine volunteers for hair growth. After 24 weeks of regular scalp massage, it was observed that all nine volunteers had better hair thickness and hair growth.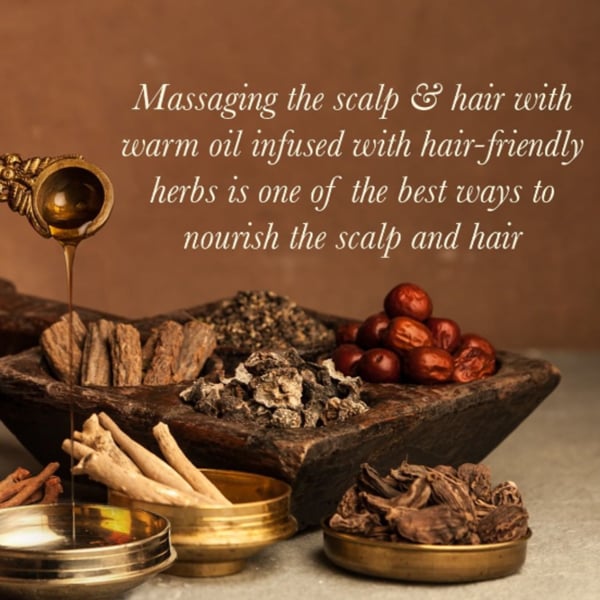 How to do a head massage? Here are a few simple steps to follow -
Warm up your regular hair oil in a bowl. You can heat it indirectly by  placing the bowl in a bigger container containing warm water.
Make your hair into equal partitions, and gently apply oil to your scalp using your fingertips. It would be best to always work your way from the roots to the tips.
With gentle pressure, massage your scalp in circular motions for about 15 minutes. 
Massaging your scalp gently helps rejuvenate your hair follicles by increasing blood circulation. This, in turn, helps promote growth and enhance hair volume. 
Let the oil sit on for at least two hours before rinsing clean with a sulfate-free, natural shampoo. You can also leave it overnight.
Read - Your Complete Guide To A Nourishing Oil Massage For Hair

Here are the best massage hair oils to increase hair volume- 
Kama Ayurveda's Pure Organic Neem Oil
Kama Ayurveda's Pure Neem oil is a natural and organic oil treatment that repairs, purifies, and heals from head to toe. This 100% pure and cold-pressed organic neem oil is rich in antioxidants and thus used for centuries to treat skin and hair disorders. 
The high essential fatty acid and vitamin content helps clarify the scalp and hair to relieve dandruff and environmental damage. Neem oil also helps stimulate hair follicles, improving hair volume and growth.
Kama Ayurveda's Citronella Essential Oil
Kama Ayurveda's Citronella Essential Oil is a fresh, herbal aromatic essential oil with powerful clarifying, freshening, and detoxifying properties. This lemony, Zingy, herbaceous essential oil is distilled from the Citronella grass (a traditional deep cleansing and protecting ingredient). 
When applied to hair, the Citronella oil controls excessive oil and greasiness in hair. This results in healthy hair growth that adds volume to the tresses.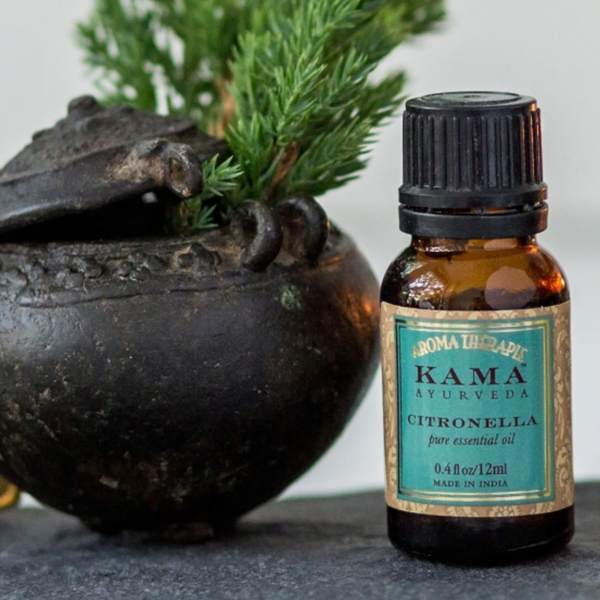 Hot to use the Citronella Essential Oil? Blend one to two drops of the essential oil in your regular carrier oil, such as Coconut, Sesame, or Almond oil. Warm up the oil and massage your scalp. Never use the oil directly on skin or hair. Keep away from sensitive areas and utilize it for external use only.

Kama Ayurveda's Bringadi Intensive Hair Treatment Oil
Kama Ayurveda's Bringadi Intensive Hair Treatment Oil is an all-in-one hair oil for hair loss, dandruff, premature graying, etc. It restores and nurtures damaged hair and brings it back to health.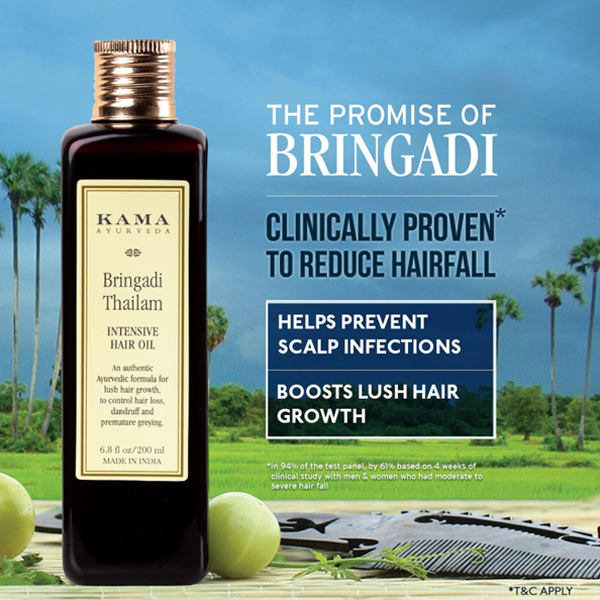 This intensive hair fall treatment oil is a traditional Ayurvedic recipe consisting of potent herbs extracted into Coconut Milk and Oil. It works as a natural conditioner that nourishes deeply while helping the scalp cool down.

The nourishing ingredients like Indigo prevent premature graying, Eclipta Alba and Gooseberry promote hair growth, Liquorice (anti-fungal) and Balloon Vine (antibacterial) prevent scalp infections. The earthy scent of the Bringadi Hair Oil gives you a calming, meditative effect that will soothe frayed nerves while uplifting your mood and aiding in a good night's sleep.
Read - Scalp Massage For Hair Growth – Does It Really Work?
5. Handle Your Hair Gently
Always handle your hair gently. Do not comb or style your hair when it is still wet, as damp hair is more prone to breakage. Never rub a harsh towel to dry your hair. Instead, using a soft towel, gently dab your hair to absorb excess water and then allow your hair to air dry naturally. You can also try using a microfibre towel as it avoids frizziness and friction. 
6. Avoid Excessive Heat Styling
Frequent use of heat-styling tools like curling irons, hair straighteners, and blow dryers can cause damage and eventually make hair fall out. Always apply a thermal protectant whenever you need to use a hairstyling instrument. 
7. Consider Using Hair Extensions
Hair extensions are a popular and effective way to add volume to your hair. They can give your hair extra length and fullness without damaging your natural hair. There are several types of extensions available, including clip-in, tape-in, and sew-in extensions.

Clip-in extensions are the easiest to use and can be applied and removed easily at home. Tape-in and sew-in extensions are more permanent and require a professional to install them.

Hair extensions can be made from real or synthetic hair, and can be matched to your natural hair color and texture. They can add length and fullness to your hair, giving you the appearance of thicker and more voluminous locks. 
8. Blow Dry Your Hair Upside Down
Blow-drying your hair upside down is a simple technique that can add volume and lift to your hair. By flipping your head upside down, you allow your hair to fall away from your scalp, which can create more space and give your roots a lift.

For this technique, start by flipping your hair over and blow-drying the underside of your hair. Use a round brush to create extra lift and volume at the roots. Once your hair is mostly dry, flip your head back up and finish blow-drying your hair as usual. This technique can be used on any hair type, but works especially well on fine or thin hair.
9. Hot Towel Therapy
Hot towel therapy is a relaxing and easy way to add volume and fullness to your hair. This technique involves wrapping a hot towel around your head, which can help to open up your hair follicles and stimulate blood flow to your scalp.

To do this at home, start by wetting a towel with hot water and wringing out the excess. Then, wrap the towel around your head and leave it on for 10-15 minutes. This can help to soften your hair and make it easier to style, while also promoting hair growth and increasing volume.

Hot towel therapy can be used once a week as a part of your regular hair care routine.
10. Use A Volumizing Mousse or Spray
Volumizing mousse or spray can create the illusion of fuller and thicker hair by adding texture and hold. They work by coating the hair strands and can be applied to both wet or dry hair for added volume. They are an easy and affordable way to achieve voluminous hair.
To use, apply the mousse or spray to your roots and throughout the lengths of your hair, focusing on the areas where you want extra volume.
Manage Factors Affecting Hair Volume
The volume of your hair refers to the number of hair strands you have on your head and the thickness of each hair strand. Therefore, the thicker and denser the hair, the more the hair volume. (1) To increase the volume of your hair naturally, you must identify and manage factors responsible.
Chemical Exposure - Regular use of products that contain chemicals like sulfates, parabens, isopropyl alcohol, and formaldehyde can make your hair weak and brittle. Keratin treatments, bleaching, or hair dyes can also contribute to hair fall due to the immense amounts of chemicals involved in the procedures.

Genes - Genes play an important role in affecting hair quality. Conditions like female or male-pattern baldness that causes hair loss is generally developed due to genetic tendencies.

Medical Conditions - Hair loss can also be due to various medical conditions like Thyroid problems, allergies, and anemia.

Stress - Emotional turmoil and stress are two top contributors to hair fall. Stress not only directly affects the hair but also negatively impacts the hormone levels and immune system.

Hormonal Fluctuations - When you are going through hormonal changes, regardless of gender, it is widespread to experience hair thinning. Hormone-related decrease in hair volume is also common in women with the polycystic ovarian disorder (PCOD). Excessive levels of testosterone cause hair to become thin and brittle, leading to decreased hair volume.

Improper diet - Nutritional deficiency or lack of proper nutrition can negatively affect the health of your hair, leading to hair loss and retarded hair growth.

Aging - With age, we can observe hair fall and reduction in hair volume.

Improper Hair Care - Not shampooing properly, excessive heat damage, tugging the hair, etc., can also lead to hair damage, hair fall, and loss of hair volume.

Pollution - Excessive exposure to environmental pollutants can lead to poor hair health.
So, how to increase hair volume and thickness naturally? Try to identify the factors responsible and manage them along with following the above-mentioned best tips and remedies for increasing hair volume.