Recently, when shopping for hair products, you might have come across many hair cleansers claiming to be 'Sulphate and Paraben Free Shampoo'. Are you curious to know how they are different from other shampoos? In this post we'll talk about their benefits and also share our top recommendations.
Parabens and Sulfates were used in shampoos for a long time. Parabens were known to be preservatives that increased shelf life of the products and Sulfates were known to be effective detergents for cleansing dirt and oils.
However, research revealed that both these constituents had an adverse impact to overall health.
Why Use Sulphate and Paraben Free Shampoo?
Parabens are Xenoestrogens, which are chemicals that have similar constituents as human hormones. For this reason, they can mimic our hormones and upset the natural balance of our body, leading to multiple health issues. 
Parabens such as methylparaben, propylparaben, and butylparabens are often used as preservatives in cosmetic products because they are comparatively cheaper than other safe preservatives. But, you should always choose paraben free products.
Sulfates are detergents, which cleanse effectively but also strip away the natural moisture from the scalp, causing excessive dryness and irritation. They can also degenerate cell membranes and even trigger hair loss. 
If you've dry and coloured hair, you should definitely opt for sulfate free shampoos as coloring hair already dehydrates your hair. These shampoos also help you retain your hair color longer.
Top Benefits Of Using Sulphate and Paraben Free Shampoo
1. Hair Nourishment
When you use shampoos that are gentle on your hair and scalp, they will preserve the natural oils, moisture and overall texture of your hair.
2. Color retention
They replenish the lost moisture in the hair and help preserve the hair color for a long time.
3. Prevents scalp issues
Since they are mild, they help in preventing scalp conditions such as irritation and itching. They also control scalp inflammation.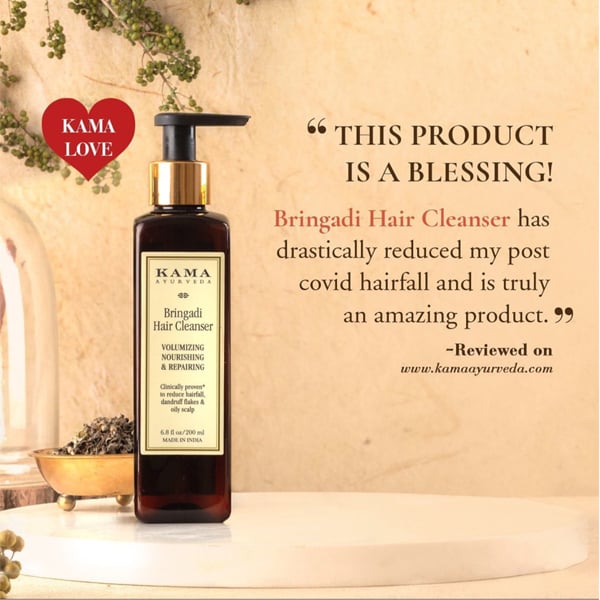 4. Preserves natural hair texture
By keeping the hair moisturized, sulfate and paraben free shampoo help maintain the natural hair texture and preserve curls.
5. Environment friendly
The chemical free shampoos are also safe for use and are good for the environment.
6. Stronger hair
Mild shampoos cause no damage to hair and scalp, which helps in preventing hair fall and breakage.
6 Best Sulphate and Paraben Free Shampoo
Sulfate-free and paraben free shampoos benefit all hair types and textures but are especially suited for hair that is already dry, damaged or chemically treated. It also helps to have natural ingredients in your shampoo and no harsh chemicals. Here are our top recommendations -
1. Bringadi Hair Cleanser
Our number one pick is Bringadi Hair Cleanser. Suitable for all hair types, it calls on the Ayurvedic ingredients such as Amla, Bhringraj and Indigo to gently cleanse your scalp and hair without stripping their natural oils.
It's an effective nourishing, repairing and volumizing hair cleanser that is also proven to reduce hair fall, dandruff flakes & oily scalp. One of the key ingredients of this hair cleanser, Bhringraj, is referred to as Kesharaja 'King of Hair' in Ayurveda. It is naturally rich in Magnesium which helps in repairing damaged & brittle hair.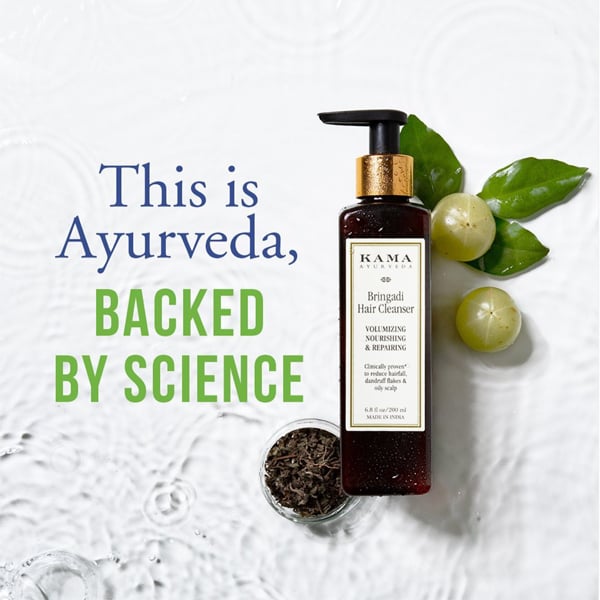 Read - Which Shampoo Is Best For Hair Growth And Thickness?
2. Himalayan Deodar Hair Cleanser
Weak and thinning hair will love every drop of Himalayan Deodar Hair Cleanser. This gentle shampoo moisturizes, and improves the tensile strength of the hair shaft and follicle with Vegetable sourced Soy protein.
It also contains volumizing ingredients such as Aloe Vera and Hibiscus extract that also balance the oil in hair and scalp. Essential oil of Himalayan Deodar stimulates hair growth and makes the hair stronger.
3. Rose & Jasmine Hair Cleanser
This is a restoring and balancing cleanser that uses Vegetable source Soy protein to improve hair's tensile strength and elasticity. It also has other powerful Ayurvedic ingredients such as Aloe Vera Juice and Hibiscus Extract that rebuild and revive dry and damaged hair. The Pure Essential oils of Rose and Jasmine protect hair health and restore natural shine.
Bonus - This shampoo is also suitable for treated and coloured hair. It restores strength in hair weakened by chemical processes, heat styling, and environmental exposure replenishing the lost moisture.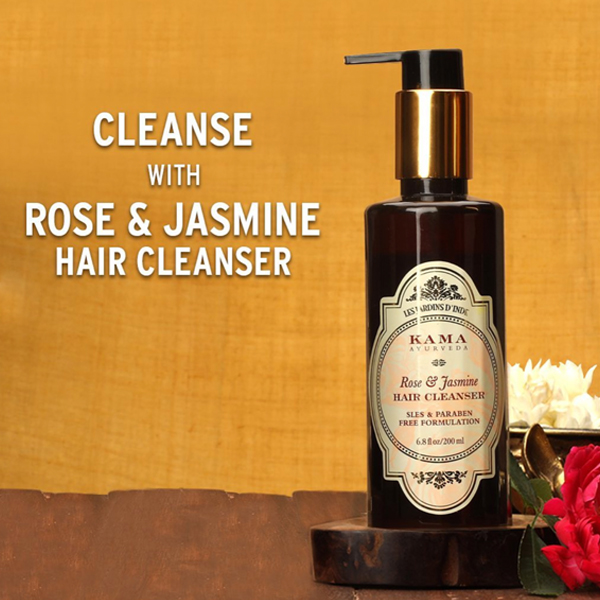 Read - 6 Best Ayurvedic Herbal Shampoos For Hair Fall
4. Kesini Ayurvedic Herbal Hair Wash Powder
If you're looking for a hair cleanser that is not only sulphate and paraben free, but also 100 percent natural then this herbal hair wash powder is the perfect choice for you. It is made with a unique blend of herbs to keep hair luxuriant and glossy. This blend is especially suitable for sensitive, damaged scalp conditions.
It has powerful Ayurvedic hair nourishing ingredients such as Tulsi, Shikakai, Green Gram and Vetiver that help keep the scalp clean and healthy without stripping natural oils. Simply mix the hair wash powder in a bowl with warm water to create a paste and apply on the wet scalp. Massage well till no residue is left and then rinse off with lukewarm water.
5. Lavender Patchouli Hair Cleanser
This gentle cleanser — packed with calming and protecting ingredients such as Lavender and Patchouli Essential oils — replenishes moisture for smoother hair texture. While Lavender soothes the scalp, Patchouli acts as a natural antibacterial, antiseptic, and anti-inflammatory agent to repair scalp damage.
The aroma of this cleanser is calming and stress-relieving. Further, the extracts of Hibiscus in the shampoo also add moisture, making it the best choice for dry and damaged hair.
Please note that this shampoo does contain a small percentage of SLES and Parabens. However, it's mild and contains natural ingredients that help reverse damage to the hair.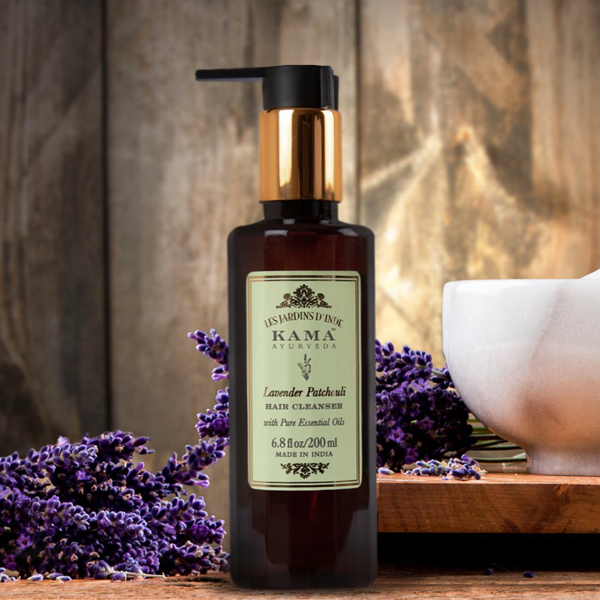 Read - The Best Shampoos for Dandruff And Flaky Scalp in 2022
6. Sanobar Hair Cleanser
Looking for a mild sulphate and paraben free hair cleanser for oily and greasy hair? Then, this refreshing shampoo with Pure Essential Oil of Orange is perfect for you. Orange essential oil acts as a natural antibacterial agent that invigorates scalp and restores a naturally healthy shine to hair.
The cleanser also has Hibiscus and Amla extract that clarify and tone oily scalp without stripping away moisture. Woody and purifying Cypress essential oil in this shampoo revitalizes the scalp to stimulate hair growth.
Please note that this shampoo does contain a small percentage of SLES and Parabens. However, it's mild and contains natural ingredients that help reverse damage to the hair.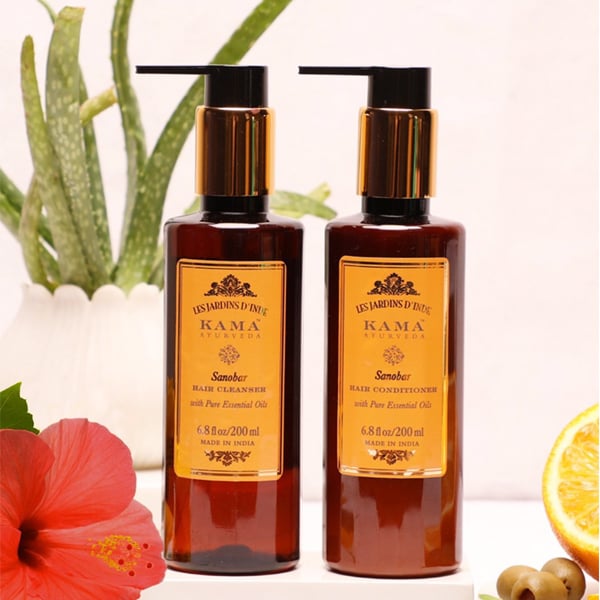 How To Use Sulphate and Paraben Free Shampoo?
Wet your hair completely and apply a moderate amount of shampoo all over your scalp.
When cleansing your hair, focus more on the scalp area as the ends of your hair are already drier. Massage the scalp and work your way down to the ends.
For a deeper cleanse, you can follow the same steps as above and then apply a second layer of shampoo to your scalp and spread evenly. After rinsing, always follow with a conditioner or nourishing hair mask.