A face wash is a skincare necessity that no one can compromise with. From having a fresh look in the morning to getting rid of all the impurities, dirt, and makeup before going to bed, we need the best face wash to cleanse our faces. 
The very first step of your everyday skincare routine should not be a mistake, and thus we, the team of Kama Ayurveda, are here to help you choose the best face wash for women of all skin types. 
But first, let's understand what face wash is and what it does?
A face wash should eliminate sweat, sebum, excess oil, dirt, dead cells, and makeup from the skin's surface. An oily cleanser can clog pores, and a drying cleanser can irritate your skin, so it is very critical to choose a face wash that is appropriate for your skin type.
Look out for the ingredient list and select the ones that are sulfate and paraben-free and don't irritate your skin. Never use your regular everyday bath soap on your facial skin, as it can be too harsh, dry, and cause damage to the skin over time.
Read - 8 Best All Natural Face Wash And Soaps For Your Skin
How To Choose The Best Face Wash For Women Based On Skin Type?
Choosing the perfect face cleanser for your skin can feel like a guessing game. A proper face wash can help you clean all the impurities and makeup more evenly, brighten your complexion, and even prevent acne and breakouts. To opt for the perfect cleanser, you need to listen to your skin, and for this, you need to know your skin type. 
Skin type categories are broad; sometimes, you can have oily and sensitive skin at the same time. Your skin also changes with time and seasons. The skin type you had in your teenage years might not be the same as the type you have now.

As you grow old and hormonal changes occur, your skin may become less oily and dry. It might also become less sensitive or more sensitive with time.
Read on to know which face wash is best for the five main skin types. These face wash are Ayurvedic and natural so they won't irritate your skin or result in any adverse side effects. You can experiment with a few of them to understand which one is best suited for your skin.
Best Face Wash For Normal Skin
Normal skin is the skin type that is neither too dry nor too oily. It is considered well-balanced skin. People with normal skin types are usually not prone to irritation or sensitivity. They have a well-hydrated skin that is not too shiny or greasy.
For cleansing normal skin, opt for a gentle yet effective face wash that helps in removing excess oil without drying out the skin. We recommend Kama Ayurveda's Rose Jasmine Face Cleanser. 
Kama Ayurveda's Rose Jasmine Face Cleanser
Kama Ayurveda's Rose Jasmine Face Cleanser is a gentle foaming herbal cleanser that effectively cleanses and gets rid of impurities and makeup. Pure Rose essential oil has excellent emollient and hydrating properties that keep skin soft, supple, young, and moisturized. The pure Essential Oil of Jasmine helps in effectively toning and reducing skin marks and scarring.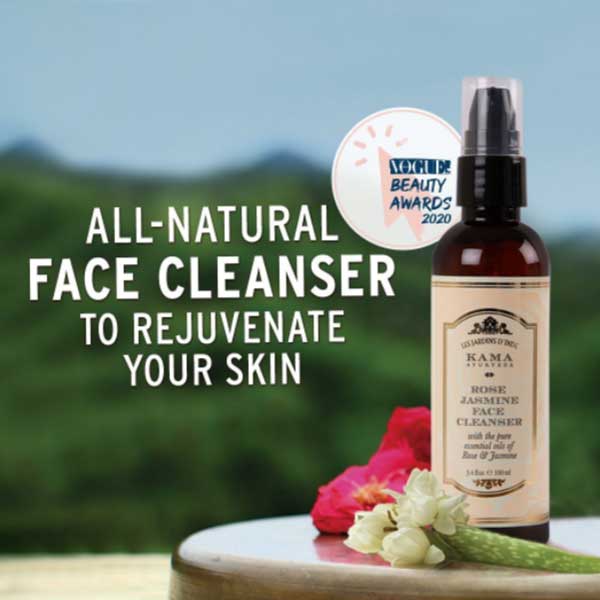 The rich blend of Ayurvedic ingredients like Aloe Vera Leaf juice, Vetiver root, and Black Cumin seeds help smoothen, heal, and protect skin from pollutants and external damage. The profoundly conditioning Jojoba Seed oil helps rejuvenate and soften skin while minimizing fine lines and promoting skin suppleness. 
Best Face Wash For Dry Skin
If you have relatively dry skin, choose a gentle cleanser with moisturizing ingredients that help clean the skin without stripping away the natural oils. 
You also should opt for a hypoallergenic fragrance, chemical-free, and alcohol-free non-foaming formula. It is also essential to avoid antibacterial soaps and face washes containing exfoliators like Glycolic and Salicylic acid as they dry out the skin even more. 
Our recommendation for the best face wash for dry skin is Kama Ayurveda's Mridul Soap Free Face Cleanser
Kama Ayurveda's Mridul Soap Free Face Cleanser
Kama Ayurveda's Mridul Soap Free Face Cleanser is a non-drying, soap-free, everyday cleanser that cleanses and exfoliates gently to give you fresh, healthy, and radiant-looking skin. 
The cleansing powder includes a traditional blend of herbs, pulses, and cereals to mildly exfoliate facial skin, making it an excellent alternative for harsh scrubs and foaming cleansers. The clarifying Neem, Sandalwood, Fennel, and Green Gram help cleanse dirt, dead skin, and impurities without stripping away skin's natural oils. 

While the brightening Sandalwood, Rose, and Turmeric evens out skin tone, Almonds help smoothen the texture of the skin. Rich in nourishing properties, the Mridul Soap Free Cleanser is also suitable for sensitive and damaged skin types.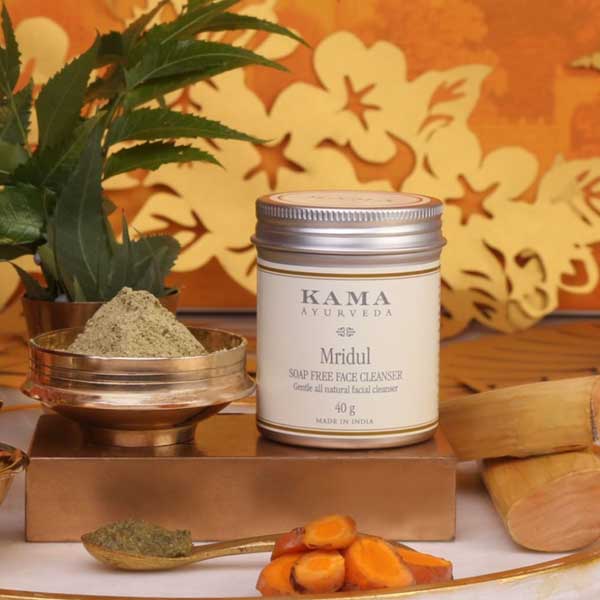 How To Use -

Mix enough amount of the product (1 to 2 teaspoons) with water to make a smooth paste. If you have incredibly dry skin, mix with Milk/Yogurt and if you have dry or sensitive skin, mix the product with pure Mogra Water or Lavender Water. 
Now gently apply the paste to moist skin and massage in circular motions before rinsing clean.
Best Face Wash For Oily Skin
The ideal face cleanser for people with oily skin type should help balance oil production and deep cleanse the skin so that the pores remain unclogged. Your face wash shouldn't leave your skin feeling dry and tight afterward as it may trigger the skin to produce even more oil, making the skin appear more shiny and greasy. 
Cleansers containing alcohol as an ingredient can amplify your oily skin type, so try to avoid them. Deep cleansing with oil and cleanser is beneficial for those who have an oily skin type.
We recommend Kama Ayurveda's Clarifying and Brightening Cleansing Oil that lathers into a face wash. 
Kama Ayurveda's Clarifying And Brightening Cleansing Oil
Enriched with the goodness of Kumkumadi Oil, the Kumkumadi Clarifying And Brightening Cleansing oil is a perfect choice for double cleansing oily skin. The oil-based cleanser is clarifying, nourishing, and illuminating. It lathers into a creamy foam to gently remove makeup and impurities while brightening, hydrating, and imparting a natural glow to the skin.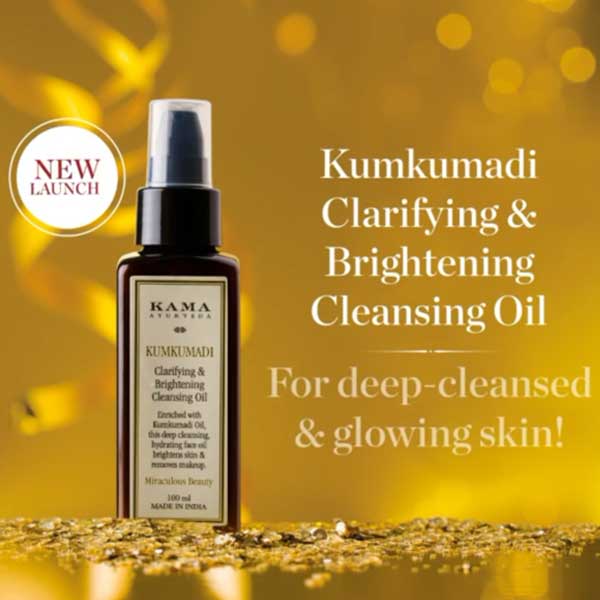 In the hydrating cleanser, Saffron, Indian Madder, and Liquorice help reduce pigmentation and tone and brighten the skin. The anti-inflammatory and anti-aging herb, Centella Asiatica, helps stimulate skin collagen production and repair skin damage. Citrus Fruit being the powerhouse of Vitamin C, helps enhance and nurture the skin. 
Kumkumadi Clarifying and Brightening Cleansing Oil leaves your skin feeling soft, supple, and glowing post-rinse every time. You can add it to both your AM and PM skincare routine for oily skin and even use it as a makeup remover. It helps balance the sebum and prevents your skin from appearing greasy.
Read - Which Is The Best Face Wash For Oily Skin?
Best Face Wash For Acne Prone Skin
An ideal cleanser for acne-prone skin should be non-comedogenic, not heavy and oil-based. It should function by deep cleansing and not over-cleansing, as over-cleansing can strip away the skin's natural oils, triggering your skin to produce even more oil and clog pores. The skin's natural barrier should not be disturbed as this can make the skin prone to bacteria and other foreign substances.
Since acne-prone skin is usually oily, your cleanser should control excess sebum production. You need to look for ingredients like Salicylic acid and Glycolic acid as they help unclog pores, reduce the size of existing pimples and slow down the formation of new ones.

We recommend Kama Ayurveda's Anti Acne Cleansing Foam for acne prone skin.
Kama Ayurveda's Anti Acne Cleansing Foam
Kama Ayurveda's Anti Acne Cleansing Foam is a lightweight aromatic cleansing foam that dries out active acne, unclogs and tightens skin pores, and reduces the frequency of breakouts. And the best part is that this anti-acne cleansing foam uses safe, plant-derived acids (Allantoin and Salicylic acid) instead of synthetic ones. It is very gentle and yet very effective in clearing acne, reducing breakouts to making skin feel soft and look healthy.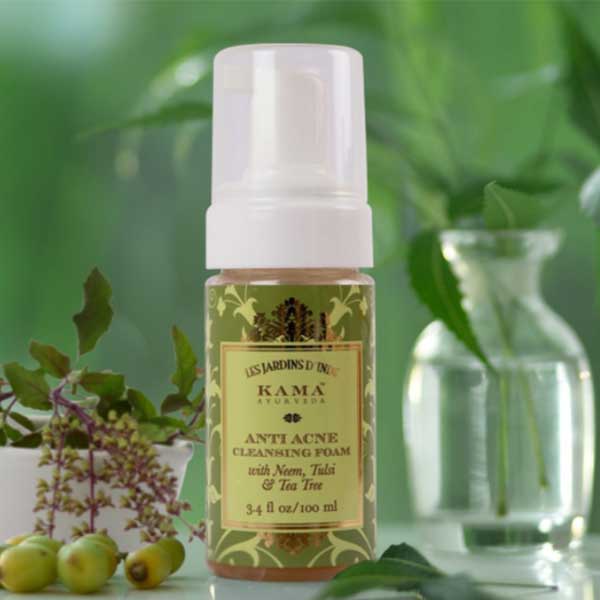 While the powerful Neem helps reduce pimples, lessen post-acne scarring, and restore lost moisture, the purifying Tulsi clears blocked pores, detoxifies skin without over-drying, and protects it against further inflammation. The clarifying Tea Tree and Salicylic Acid effectively cleanse the skin, reduce breakouts and boost the skin renewal process.
The Aloe Vera Extracts and Calendula Flower will cool and soothe acne-ravaged skin. The Comfrey-Derived Allantoin acts as a mild conditioner and healer for distressed, damaged skin.
Read - Which Is The Best Face Wash For Pimples and Marks?
Best Face Wash For Sensitive And Combination Skin
Both sensitive and combination skin need an ultra-gentle face wash. Opt for a hypoallergenic, fragrance-free, soap-free, and paraben-free cleanser, as it won't irritate the skin. 
Our recommendation for Sensitive or Combination skin is Kama Ayurveda's Sensitive Skin Cleansing Foam
Kama Ayurveda's Sensitive Skin Cleansing Foam
Kama Ayurveda's Sensitive Skin Cleansing Foam is a lightweight, ultra-gentle cleansing foam that helps calm distressed skin and replenishes lost moisture. It is ideal for delicate skin as it removes excess oils and impurities without stripping away the skin's essential moisture.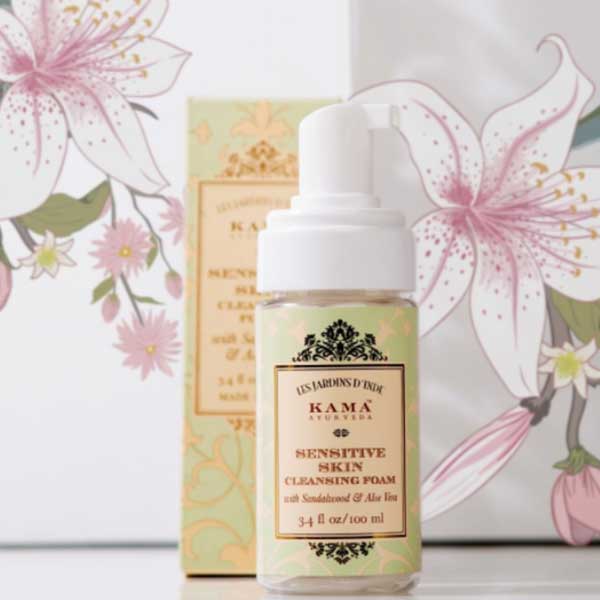 Pure sandalwood oil with an abundance of anti-inflammatory and antibacterial properties helps soothe and cool sensitive, irritated, and reddened skin. The cold-pressed Aloe Vera Leaf Juice gives skin intense hydration and therefore helps control redness, flaking, and tightness. The naturally therapeutic Calendula helps in healing skin damage caused by environmental irritants and pollution. The result - the Sensitive Skin Cleansing Foam leaves skin feeling healthy, fresh, and comfortable.
Frequently Asked Questions About Best Face Wash For Women
• Which Is The Best Face Wash For Daily Use?
Opt for natural face wash for daily use as they cleanse the skin without stripping it from essential moisture. Kama Ayurveda's Rose Jasmine Face Cleanser is one of the best face wash for daily use. It has natural Ayurvedic ingredients that nourish and condition the skin with every wash.
• Which Face Wash Is Best For Glowing Skin?
Kama Ayurveda's Clarifying and Brightening Cleansing Oil  is the best face wash for glowing skin. It has iconic Kumkumadi Oil which is a known Ayurvedic oil for skin brightening. Along with other rich Ayurvedic ingredients, this face wash double cleanses the skin to reveal a glowing complexion.
Read - Cleansing Oil For Skin Care – All That You Need To Know
• Is Facewash Better Than Soap And Why?
Soaps tend to rip off the natural oils from your face. The more the lather, the drier your skin becomes. Whereas face wash gently cleanses skin without ripping off the natural oils. It balances the skin's pH, hydrates, and helps clear clogged dirt and oil from the face preventing breakouts.
• How To Choose And Use The Best Face Cleanser For Women?
Before choosing the ideal face wash, you need to first determine your skin type and the ingredients that suit you the best. Checking the ingredients list of the product is a good habit to understand if the product is well suited for you and to become aware of possible side effects. The easiest way to make sure the face wash is ideal for you is to check that your skin doesn't feel stiff and dry after application. 
• How Often Should One Use Face Wash?
Wash your face twice daily to remove skin buildup of pollutants and irritants (once in the morning and once before going to bed). If you have dehydrated skin, limit yourself to using face wash only once a day. You can choose to double cleanse your skin before going to bed by using an oil-based formula to dissolve makeup and sunscreen, and then a water-based formula that removes all the remaining residues.
• Do Face Washes Expire?
Different face washes have different shelf lives depending on the formula and packages. While some expire after a year or two, others may only last six months. Make sure you check the expiration or PAO (period-after-opening) symbol to know whether a specific cleanser is still safe and effective to use. Also, store your skincare products in a dry and cool place to make them last as long as possible.
If you need help with determining your skin type and choosing the best face wash for yourself, you can book an appointment with our Ayurvedic beauty experts.